| | |
| --- | --- |
| | Got Game? |
---
'And Then There Were None' does not live up to its origin
"And Then There Were None"
for the Nintendo Wii ($29.99)
Being a fan of anything can lead one down a perilous path. So it was when I, a fan of British mystery author Agatha Christie, was intrigued by the Nintendo Wii game "And Then There Were None," based on Christie's novel of the same name.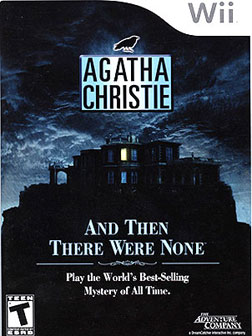 Players control boatman Fred Narracott, who ferries 10 passengers to a remote island owned by mysterious millionaire U.N. Owen. In a deviation from the novel, Narracott becomes stranded on the island with the others and is trusted to investigate when the guests start getting murdered one by one. Knowing the ending (hint: the operative word in the title is "none"), I was curious to see how the addition of an 11th character would change things.
"None" is a point-and-click adventure in the style of the "Myst" games. Using the Wii remote, players tinker with, pick up, take apart and recombine items to solve puzzles - a task made infinitely more difficult by the fact that the cursor icon does not change when you land on something with which Narracott can interact.
Originally a game for Windows PC, the Wii version adds some motion controls to make use of the remote. For instance, to open a door, you twist the remote as though you were turning a doorknob; to dig in a bag of flour, you push the remote forward like a scoop.
Narracott is smoothly written into the plot, which isn't surprising after learning that "None" game maker the Adventure Co. worked with the Christie estate to ensure the amended story matched the author's style.
But any smoothness ends there. The rest of the game proceeds in a jerky manner, going back and forth between dialogue-filled cut-scenes and more wandering around than the Israelites did in their 40 years in the desert, interspersed with some actual puzzle-solving, if you're lucky.
This is a game where you need to be constantly on the alert for anything that might be useful, and some of the puzzles require creativity that is so ridiculously out of the box that it amounts to pure trial and error. Don't expect to be fed hints as to what to do or where to go next.
Despite this mental challenge, after the first two hours, the beautifully haunting background piano music turned into a dirge as I felt my intelligence - and my interest - rapidly dying.
My brain atrophied at Chapter 5, when my apparent lack of imagination caused me to stumble around the game to the point where my patience ran out.
It's rather silly to make a game in which you play out the plot of a book, because you cannot change the story. Never has a game made this uselessness more apparent than "And Then There Were None." Narracott does a lot of questioning of the suspects, but you could completely skip all that and not miss anything important.
Perhaps if I hadn't been of the mind-set that I'd be simply working toward the book's original ending, I might have enjoyed it more, especially since the resolution was changed substantially from the book - and with multiple endings, to boot.
Someone who has never read "And Then There Were None" might enjoy it more, but the wearisome path to the game's end will likely numb any sense of accomplishment you might have long before. Even the multiple and altered endings are meager reward for the torturous brain-beating.
Maybe if I had felt like I was actually trying to solve a mystery using my deductive skills, rather than solving worthless puzzles leading only to futile escape attempts from the island, "And Then There Were None" would have been far more engaging.
The voice acting and characterizations are excellent, however, and if this had been a movie, it might have been a nominal success. But in the video-game genre, there really should have been none.


Wilma Jandoc
covers the universe of video games, anime, and manga for the Star-Bulletin. She can be e-mailed at
wjandoc@starbulletin.com