6 hours into holiday weekend, state records fatal road crash
Memorial Day weekend began with a fatality on the North Shore when a 30-year-old man died after missing a turn on Kamehameha Highway and smashing his Honda into a concrete barrier yesterday morning.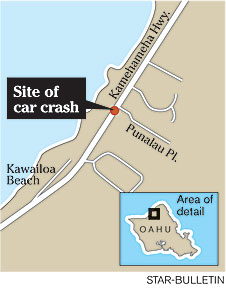 About 5:15 a.m. yesterday, the victim was speeding toward Waimea Bay and lost control on a turn near Punalua Place near the Leftovers surf spot, crossed over the center line, went off the highway and struck a concrete piling, traffic investigators said. The vehicle was severely damaged, and the victim, the only person in the car, had to be extricated by firefighters.
The man was pronounced dead at the scene at 5:56 a.m., said Honolulu Emergency Services Department spokesman Bryan Cheplic.
The body was removed by 6:15 a.m., said fire spokesman Capt. James Todd. Traffic was contra-flowed around the accident scene until 10 a.m.
The victim's name was not released. Police are waiting for autopsy results, probably on Tuesday, before determining whether alcohol or drugs were involved in the crash.
This was the 17th traffic
fatality of the year on Oahu compared with 35 at the same time last year. It comes after police and the relatives of drunken driving crashes held a news conference Thursday to remind residents to drive safely as graduation season approaches.
Just down the road yesterday, members of Mothers Against Drunk Driving held signs in Haleiwa urging drivers to be careful.
Police said they will also be holding sobriety checkpoints at unannounced locations this weekend and through the rest of the summer.
"This is the Memorial Day Weekend," said police Sgt. Alan Vegas of the vehicular homicide section. "Everybody drive cautiously and with concern for other drivers and pedestrians on the roadway."