BOOKSHELF
Isle Pages
New book releases from Hawaii authors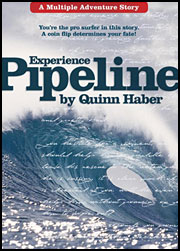 "Experience Pipeline"
Quinn Haber
(Casagrande Press, $14.95)
You are one of the final three competitors in the Pipeline Masters, about to paddle out. A set approaches. What happens next? Flip a coin. Quinn Haber -- a surfer who started with the waves off the California coast and now lives in Hawaii -- has written a book for young adults that has more than 300 possible story lines. At the end of each brief segment, the reader flips a coin -- heads leads to a certain page for the next part of the story; tails leads somewhere else. One sequence of flips has the reader finding sunken treasure, while another has him losing a leg, so the consequences are substantial.
The book also includes graphics that explain the wave action at Pipeline, and a glossary of surfing terms, making it a neat little package for the young surfer.