Big Isle development could add 1,200 homes
A California builder is proposing the project on 303 acres of oceanfront land north of Kona
HILO » A California home builder is proposing to create up to 1,200 homes on a 303-acre parcel of oceanfront land known as Ooma, north of Kailua-Kona.
The project is known as Ooma Beachside Village, to be developed by a limited liability corporation of the same name, affiliated with Midland Pacific Homes of Atascadero. Calif.
The project involves some of the same land that was previously proposed for the controversial "Clifto's" development, which also included a 250-room hotel.
The new proposal does not include a hotel.
Kona project reinvented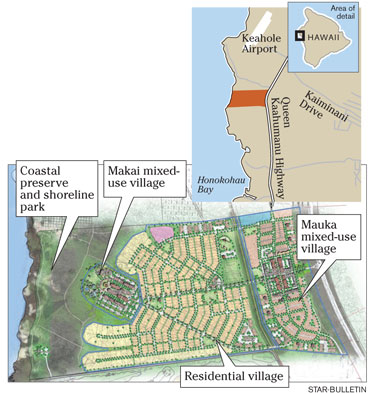 That project, which needed a county change of zone from industrial to commercial designation, was vetoed by Mayor Harry Kim in 2004 because of community concerns that it would generate too much traffic on the state's already heavily congested Queen Kaahumanu Highway.
Since then, the state has begun moving forward with plans to widen the "Queen K." highway.
A timetable laid out by Midland indicates that the state's next increment of widening the highway to four lanes will be completed in 2010, before construction of the Ooma Beachside project begins.
County planning director Chris Yuen said there is no certainty about the timetable for the project or the highway, but Kim's administration is satisfied that the two projects will run parallel to each other.
The project will need a county change of zone, because the old industrial zoning is still in place.
But a more immediate concern is changing state land use designation for 181 acres out of the 303-acre total to "urban" from their present "conservation" status.
Although that would result in substantial urbanization of the area, the project has a very unusual 1,100-foot setback from the seashore - a zone in which no significant building would take place except for a public "canoe club" site.
Shoreline setbacks in prior decades were as little as 40 feet.
Yuen said Kim's administration increased the setback to roughly 1,100 feet in a 2005 amendment to the county General Plan.
Ooma Beachside's 2007 preparation notice for an environmental impact statement said the actual setback will be much wider in some areas, up to 1,900 feet.
The plan calls for two "mixed use villages," which will have commercial space in them. One would have up to 400 homes including multi-family units, and a second would have up to 40 units.
In addition, there would be up to 560 single family homes and 200 multifamily homes farther from the two centers.
Yuen said the homes are needed to get people closer to workplaces in Kona.
A housing shortage means some people now have to drive 50 miles each way from Ocean View, he said.
---