Candle sparks destructive fire
Gertrude Fisher said she was just making a quick trip to the store so she left a candle burning in her bedroom in a long glass candleholder.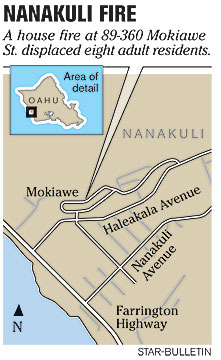 When she got back her home was on fire.
Firefighters were called about 9:15 last night to 89-360 Mokiawe St. in Nanakuli.
None of the nine adults who live in the house was hurt, but one dog was found dead, said Honolulu Fire Department spokesman Capt. Terry Seelig. The fate of three puppies was unknown.
Fisher's grandson, Oliver Pilila'au and his cousin, both 21, were relaxing when they heard crackling and popping noises.
"I came out," Pilila'au said. "My grandma, her room was on fire. It turned out to be a candle. We didn't have electricity. That's why everybody had candles and propane lamps."
"It went pretty quick," he said. "This house is pretty old."
Pilila'au said there were problems with paying the electric bill and the house was without power since he moved in eight to nine months ago, possibly longer.
"That's why we're using candles," said Fisher, 67, who waited outside on a stone wall for her husband to come home on the bus from his job at the airport.
Pilila'au said one aunt and two uncles were also home when the fire started, but everyone got out safely.
Fisher's sister-in-law, 71, who declined to give her name, said she had inherited the six-bedroom house from her mother, who died a few years ago. She would now have to stay with relatives. Her daughter, who lives there off and on, said she would sleep on the beach.
Fisher said her sister-in-law took her and her family in when they had nowhere to go after her daughter's former landlord sold the home they rented.
Fisher was distraught over the loss of her dog and possibly three puppies. "They just opened their eyes last week," she said.
Two other dogs, including the puppies' mother, survived.
The official cause of the fire was under investigation. Damage was estimated at $430,000.
The Red Cross was helping those displaced by the fire.