5 indicted in Big Isle attacks
The victims were allegedly chosen because of their race
HILO » A Kona grand jury has indicted five men for alleged hate crimes in connection with attacks on nine campers at a county beach park at Hookena, South Kona, on Jan. 27, 2007.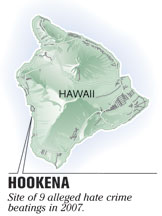 According to the five indictments, the attackers "intentionally selected the victims because of hostility towards the actual or perceived race" of the victims.
Drosstain Edward Pua, Isaac K. Alani, Wyatt Kimo Alani Jr., Richard Aliiloa Kaleohano Jr., and Thomas Kaupu are each charged with 12 counts including second-degree assault, third-degree assault, and terroristic threatening.
On Feb. 23, 2007, about a month after the attacks, police put out a request for public assistance in finding the attackers. On March 9, 2007, they issued a statement saying five men, 18 to 24, had been arrested.
One of those arrested at the time is not among the indicted, but an additional name, Kaupu, was added among the indicted.
Police said last year a first group of victims called at 7:32 p.m., said they had been assaulted, and were on the way to Kona Community Hospital.
At 8:05 p.m., while the police were interviewing victims at the hospital, they got a call that another group needed an ambulance at the park. The ambulance and police arrived there at 8:37 p.m. but the attackers were gone.
Police were able to identify possible suspects from descriptions given by victims and by tips from the community, they said.
Police also conducted surveillance at the park using uniformed and plain-clothes officers.
The police statements made no reference to a possible racial motivation for the attacks.
The attack in South Kona was apparently unrelated to an allegedly racially motivated assault on campers at Makalawena, North Kona, in 2004.
The man with the greatest number of charges against him then, Henry "Puka" Bell, eventually pleaded guilty to six of 13 charges against him.
The plea agreement allowed dropping of the hate-crime aspect of the charges, thereby allowing him to avoid doubled penalties of as much as 20 years in prison.