Developer combines land petitions
Castle & Cooke Homes Hawaii Inc.
yesterday said it is combining its petitions to the state Land Use Commission for two of its Central Oahu subdivisions.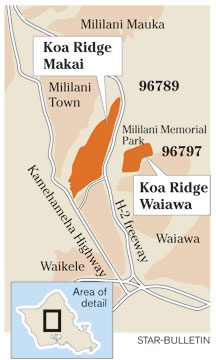 The move, which links the petition for its long-stalled 575-acre Koa Ridge Makai master-planned community to that of the 191-acre Castle & Cooke Waiawa about a half mile away, will "facilitate their review for government agencies and the general public," said Harry Saunders, president of Castle & Cooke Homes Hawaii.
The petition now seeks to reclassify approximately 766 acres of agricultural lands to urban.
Castle & Cooke submitted a petition in July 2007 for the 1,500-home Waiawa development, located on the east side of the H-2 Freeway. A draft environmental impact statement (EIS) for the project was filed in November 2007.
While plans for Koa Ridge Makai had been in the works since the 1990s, community opposition as well as a lawsuit with the Wahiawa Hospital Association -- resolved earlier this month -- had stalled the project.
Groundbreaking for Koa Ridge Makai is planned for 2010, with the first of 3,500 homes expected to be ready for occupancy in 2012. The community, which is located north of the Waipio Business Park, also will include medical and health care services, parks, recreation centers, school sites, commercial sites, and a village center.
The Mililani Waipio Neighborhood Board has continued to oppose the project. Traffic, water availability, overdevelopment of agricultural lands and concerns about schools and other community infrastructure needs continue to illicit community concerns, said Richard Poirier, Mililani Neighborhood Board chairman. Earlier this year, the board forwarded two resolutions to the state LUC in opposition of the permit, Poirier said.
"It's not so much that the development is bad, but we are opposed to the scale of this development and we don't think that this region will be able to handle it," Poirier said, adding that if all of the planned developments in Central Oahu come to fruition the region could end up with 15,000 to 20,000 new homes.
Castle and Cooke has already begun community outreach efforts and will continue to pay visits to all five Neighborhood Boards in Central Oahu, said Carleton Ching, Castle & Cooke vice president of community and government relations. The developer plans to satisfy outstanding environmental requirements within the year, Ching said.