| | |
| --- | --- |
| | Got Game? |
---
'Duck Amuck' drives players daffy
You gotta feel sorry for Daffy Duck sometimes. Not only is he usually on the losing end of any cartoon he's in, there's an entire game devoted just to humiliating the feathered fool.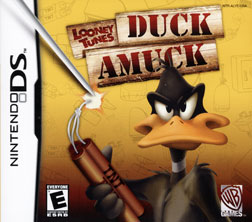 "Duck Amuck" for the Nintendo DS is based on a particular Looney Tunes' toon in which an unseen animator plays havoc with Daffy by drawing and erasing background elements. The game puts the duck on a plain white background and the player, using the stylus, taps Daffy or around the background to cause certain events that activate one of about 20 available minigames, called "gags."
The gags are based on other cartoons, with most of them involving messing up Daffy so that he fails at whatever endeavor he's taking part in. Each game has several levels of increasing difficulty. Finish all the levels and get a short scene, in addition to adding to Daffy's Rage-O-Meter. Completely fill up the meter and Daffy explodes in a tirade demanding to know just who is screwing around with him. Congratulations -- you've finished the game.
It doesn't seem like much, and indeed it's not.
Then there are the nonskippable opening scenes leading into each minigame that you MUST watch and which get extremely tedious after just the first viewing. Multiply that by however many times it takes you to finally complete all levels of that game, and you're in for a lot of aggravation of your own. Some have useless elements that compound the impatience, such as having to draw a steed for Daffy each time you play "Deal the Cards." It's repetitive activity that gets tiring fast.
And despite the focus on minigames, "Duck Amuck" has little value as a casual game to try to play if you have a few spare minutes. Access to any particular minigame is very specific, depending on what Daffy's saying or doing, so you have to let the game sit for a while before the dialogue or action finally hits the appropriate point. If you miss that small time window, then you'll be waiting around some more. It's enough to make anyone give up before even starting.
Accessing games directly through the Gag Menu (opened by picking up Daffy with the stylus and tossing him to the left of the screen) lets you play only the ramped-up versions of each gag, with additional levels above the five or so found in the regular game.
Even the prospect of hunting for character coins, some of which come only during scenes after you beat all the levels of one game, adds more to its groaning tedium rather than its replay value.
While the premise of "Duck Amuck" might promise to appeal to that bit of sadism against Daffy lurking in our hearts (or to that Looney Tunes nostalgia), the concept works far better as a cartoon rather than an interactive game.
Wilma Jandoc
covers the universe of video games, anime, and manga for the Star-Bulletin. She can be e-mailed at
wjandoc@starbulletin.com