BOOKS
Isle Pages
New book releases from Hawaii authors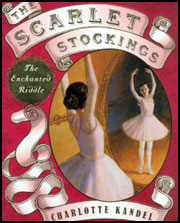 "The Scarlet Stockings: The Enchanted Riddle"
By Charlotte Kandel
(Dutton Children's Books, $16.99)
The author, a frequent visitor to Hawaii, will read from her new book at 1 p.m. Saturday at Barnes & Noble in Kahala Mall. Kids can make a glittery ballerina cutout at the event.
Charlotte Kandel is a former publicity executive for Warner Bros., but has left that world to become a writer, targeting her first novel at girls ages 8 to 13.
"The Scarlet Stockings" is meant to be the first in a trilogy, following the life of a teenage orphan, Daphne, and the mystery and adventure that bring her both a family and an answer to her dream of being a ballerina.
The story is set in London and Paris in the early 1920s.
"The Scarlet Stockings" is illustrated by Tony Award-winning set and costume designer Desmond Helley.