COMPOUNDING THE TRAGEDY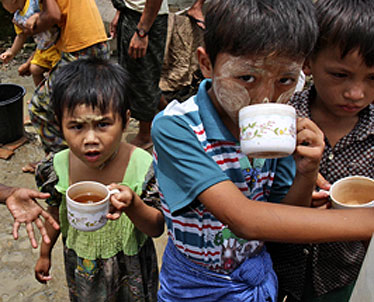 Burma's military junta is hardly 'government'
I, like many others, often refer to the "government" in Burma. But referring to a military junta that is a close-knit gang of thugs, thieves and butchers as a "government" is an insult to other Southeast Asian countries that have democratically elected leaders who show compassion for their people.
In the wake of the massive loss of life and destruction in Burma caused by cyclone Nagris, new charges must be considered against Burma's junta - negligent homicide. News articles show that Burma's military leaders received warnings about cyclone Nagris one week before slamming into Burma's Irrawaddy Delta.
Despite the warnings, Burma's ruling generals failed to implement any meaningful emergency preparedness plan to evacuate or warn people in the areas that would be most affected by the cyclone. A three-meter storm surge inundated most of the Irrawaddy Delta, destroying entire villages. The body count continues. Tens of thousands are still missing. Some estimate that the loss of life will reach 100,000.
The city of Yangon, formerly Rangoon, is in shambles. No water, electricity or telephones. Public transportation is at a near-standstill because roads remain blocked by fallen trees. Basic commodities are scarce and prices have sky-rocketed. Gasoline and diesel fuel is hard to find because there is no electricity to run the pumps. Building materials are in short supply. The homeless huddle in overcrowded shelters while others sleep in the streets. State-run television shows military leaders making cameo appearances to distribute aid packages. At the same time, United Nations agencies have been frustrated in distributing aid supplies because the junta refuses to relax its stringent visa and travel requirements. Buddhist monks have been quick to respond and offer monasteries as shelters and have assisted in cleaning and clearing fallen debris.
Civil servants and Burmese Army officers have deserted their posts in Naypyidaw to search for missing family members. Why? Because Burma's "government" said they could not leave their jobs because it intends to continue with its referendum process on Saturday. Can the situation be more bizarre?
Is the military junta guilty of negligent homicide or has it discovered a new form of genocide?
Gregory Elliott
Pearl City
Poor signage racks up no-parking fines
Two months ago, the police issued more than a dozen tickets to drivers parked in a "no parking" zone at the end of a particular street in Aiea. This ticketing has been going on for years! If this street is indicative of a myriad of streets of high traffic and emergency service areas all across the island where people are unfortunately unclear about designated illegal parking areas, then the city should use the proceeds from hundreds of tickets to buy and install more signs where they are truly needed.
The results of more properly and clearly placed "no parking" signs would mean fewer illegal parking infractions, lower insurance rates, more time for police to spend on urgent matters and improved public safety.
I'm not suggesting that already limited parking areas be taken away, but that thousands of drivers across the island not be continuously lured into the prospect and appearance of an empty spot, only to find out when the sun rises that a ticket is on their windshield.
The city Department of Transportation Services' answer was that it would look into it. Meanwhile, paid fines keep pouring into the city's coffers as the tickets keep tick-tick ticketing away.
John Burns
Aiea
Hawaiian activists echo Hungarian's operetta
The recent action of Hawaiian activists blocking non-Hawaiians to the grounds of Iolani Palace reminded me of the operetta, "The Flower of Hawaii," which my wife and I saw in Vienna in 1967.
The popular operetta, composed by Hungarian-born Paul Abrahams, was first performed in 1931 in Berlin. Life obviously echoes art, for the operetta's story deals with Hawaiians plotting to overthrow U.S. rule in order to restore the Hawaiian monarchy. Haoles were not allowed in Iolani Palace. "Die Blume von Hawaii" is a fine musical treasure, with modern implications.
Charles E. Frankel
Honolulu
Senate got it right when it ousted regent
In the Star-Bulletin of May 2, Kitty Lagareta accuses the state Senate of trying to micromanage the University of Hawaii. This attempt to blame the Senate for refusing to confirm her for a second term as UH regent simply won't wash. The senators had it right: Lagareta was an incompetent regent on whose watch the morale of UH students and faculty deteriorated, students could not get the classes they needed to graduate and departments could not recruit or keep vitally needed faculty. The Evan Dobelle affair amounted to a comedy of errors. Meanwhile, while the regents slept, the physical structure of the university has crumbled.
Much of the fault is Lagareta's: As regents' chairwoman, instead of supervising and exercising oversight over UH President David McClain, she allowed McClain to dominate and manipulate the board. As a 35-year faculty member on the Manoa campus, it has never, in my opinion, been in such bad shape.
So congratulations to the Senate for its brave action, and I hope this heralds a new era of closer scrutiny of the unqualified political cronies Linda Lingle is sending to direct our university.
Noel Jacob Kent
Professor of Ethnic Studies
University of Hawaii-Manoa
Chinese writer omitted some facts about Tibet
Thank you for printing Jason Chen's views on the West being responsible for ruining Tibet
(Insight, May 4)
. Just a few things were omitted from the account of an employee of the official Chinese News Agency, Xinhua:
» There are no Western soldiers stationed in downtown Lhasa. The Chinese military base is clearly visible.
» Tibet, like all of China, operates on Beijing time, meaning that midnight in Beijing is midnight in Tibet, something like the Washington, D.C., time zone being observed in Los Angeles.
» Westerners didn't pay to construct a railroad from Eastern China to Tibet. When I was there we Westerners rode a bus four hours to Lhasa from the airport.
» The Chinese government has its sights on the selection of a new Dalai Lama upon the passing of the current one. This would be akin to the Italian government helping to select the next pope. Oh, right, there is a Chinese government-sanctioned Catholic Church in that country already.
J.D. Nielsen
Honolulu
Differing opinions needn't end friendship
This is in response to the numerous people who take my opinions seriously. You can never please all of the people. Being a frequent contributor to the letters section puts me in a vulnerable position.
Sometimes people love your point of view and sometimes they disagree. The ones who really enjoy letters will go out of their way and call me. The people who disagree will many times be associates who after reading my opinion will be mad or stop talking to me.
We can all have different opinions, whether we express them in letters to the editor or verbally in casual conversation. The main thing to focus on is that these are just opinions.
I may disagree with your political point of view or how you raise your child, or that weed blowers should be abolished in residential areas, or that the Superferry is OK. My opinion may be different from yours. However, we can still be friends with differences in opinions.
Many times we criticize out of love and concern. I know that's what I do.
James "Kimo" Rosen
Kapaa, Kauai
Hawaii needs to limit campaign signs
The politicians at the state Capitol decided not to pass the campaign sign bill HB1832.
It's a shame because it would have provided reasonable limitations on the excessive banners and over-sized posters that litter residential neighborhoods during election seasons.
Keep in mind that the intent of the banners and posters is to catch the attention of people, more specifically drivers, and most would agree that the excessive size and number of these political signs are a distraction and a potential hazard.
The issue is really about preserving the beauty of Hawaii. Hopefully after the upcoming campaign season, legislators will notice how excessive and unnecessary the signs are, but more importantly, why the campaign sign bill should be passed.
N. Sugata
Kaneohe
Restore funding cuts to Medicare/Tricare
We urge readers to do all they can to assure Congress reverses the mandated 10.6 percent cut in Medicare payments to doctors scheduled for July 2008. Action is needed by mid-June or Medicare will begin processing payment cuts.
The cuts in payments to doctors will devastate seniors' and all military beneficiaries' access to health care by encouraging even more doctors to stop seeing Medicare and military
Tricare patients. Military beneficiaries are affected even more severely because Tricare rates are capped at Medicare levels, and in many cases are discounted below Medicare's.
This issue is a particular problem for retirees, survivors and Guard and Reserve families who don't live near military installations. In those areas, many doctors already refuse to see any new Tricare patients.
Please do all you can to ensure Congress replaces the Medicare/Tricare rate cuts. Without some stability in the program, our military families and retirees' care is in jeopardy.
Henry and Rosella Trautwein
Major, USMC, Ret.
Keep Gentry children in same schools
I am very troubled to see that the new Keoneula Elementary School attendance boundaries now excludes all the Ewa by Gentry neighborhoods.
This is unfair to those of us living in Ewa by Gentry who were included in the original boundaries and will now have to be bused past our current school to a new school further away from our home.
The Department of Education missed the point of the outcry from residents in the Ocean Pointe community in that they were upset that they were originally included in the school boundaries. The same sentiments are now going to be felt by Ewa by Gentry neighborhoods.
Why are we now being excluded from the new boundaries, yet there are spaces reserved for yet-to-be-built neighborhoods in the new school boundaries?
Stick to the original boundaries when it comes to existing neighborhoods but exclude all future neighborhoods from the new boundaries. This would affect fewer families.
Robert Tremmel
Ewa Beach
Inouye saved the day for Hawaii once again
Hawaii has seen the impact of the closure of Aloha Airlines Cargo. Just when it appeared that cargo was shut down, and absolutely no one could help, Sen. Dan Inouye came to the rescue. With his energy and support, Aloha Air Cargo lives on. Much mahalo to Sen. Inouye and Saltchuck Resources.
Craig Hayashi
Honolulu
Let's hope Menor could read bills he passed
Any reputable driving school would have informed Sen. Ron Menor that driving while intoxicated, with a fractured foot, and one outdated contact lens can be harmful to the lives of himself and his passengers, in this case his children
(Star-Bulletin, April 28)
.
I hope he did not approve any legislation he read while wearing just one outdated contact lens.
Henry K. Konno
Honolulu
Legacy of 'Mr. Lake'
It was with great sadness that I learned of the passing of my beloved teacher and friend Kumu John Lake
(Star-Bulletin, May 15)
. As my teacher at Saint Louis High School he was a source of both inspiration and leadership. During my career as a lawyer and a federal judge he remained a dear friend and adviser. "Mr. Lake," as we knew him at Saint Louis, was a true gentlemen who was never too busy to help a student who needed his advice or assistance.
Hawaii has lost a giant in John Lake, but his legacy will live on in the thousands of young men he taught at Saint Louis, and the many thousands of young men and women he inspired to learn and live the Hawaiian culture.
Aloha Mr. Lake, you will be dearly missed but never forgotten.
David Alan Ezra
Saint Louis High School
Class of 1965