Mokuleia park closing at night due to request of residents
Some homeless people say the city is closing Mokuleia Beach Park every night just to get rid of them.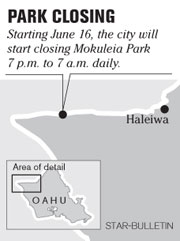 The closure will begin June 16, and will be from 7 p.m. to 7 a.m., according to a city announcement yesterday. The move came at the request of the North Shore Neighborhood Board and the city Board of Parks and Recreation, said city spokesman Bill Brennan, and not the administration of Mayor Mufi Hannemann.
The announcement cited the lack of public bathrooms as the reason for the nighttime closures. The bathroom was demolished in April because it had deteriorated into a safety hazard, city officials said.
Portable toilets are available for daytime park users, and construction of a replacement facility is planned but is not expected to begin soon, city Parks Director Les Chang said.
Night fisherman will be allowed to fish the park's shoreline.
Faustino "Uncle Junior" Soberano, a full-time carpenter who lives in a tent at Mokuleia Beach Park with his wife, three stepchildren and two grandchildren, says the homeless are unfairly being blamed for dirty facilities as a way to get them out of the park.
"Everybody says it's the homeless screwing things up here, but we're not," he said, noting regular beach-goers messed up the washrooms.
"We use the bathroom and I have grandkids that use the bathroom," said Soberano, who buys supplies to clean and sanitize the toilets.
Brennan said most city parks are closed at night at the request of neighborhood boards.
North Shore Neighborhood Board's Vice Chairman John Hirota said Mokuleia community members asked the board to recommend the closure for health and safety reasons. No one opposed the request or raised concerns of the homeless being picked on, so the measure passed, he said.