Collision kills 2 in Nanakuli
A 3-year-old child in a car and the driver of a pickup truck are killed on Farrington High
Police said a 25-year-old Waianae man had been drinking and was speeding when he lost control of the pickup truck he was driving and crashed into another vehicle killing himself and a 3-year-old boy in the other car.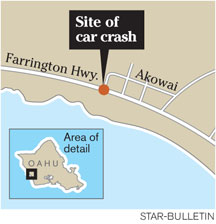 The crash happened about 10:20 last night on Farrington Highway near Akowai Road in Nanakuli.
Police said Sanford Valdez was driving a black 2003 Chevrolet pickup toward Honolulu when he lost control and hit the makai-side guardrail, police said.
The truck then veered back onto the road, crossed the center line and collided with a 2001 Volkswagen four-door Jetta, which was in the mauka-most Waianae-bound lane.
The impact pushed the Jetta off the highway where it hit a parked car.
A 3-year-old boy in the Jetta, identified by the Honolulu Medical Examiner's Office as Koa-Paka Miles, was thrown from the car, police said. The boy was sitting in a booster seat in the car but it was unclear whether he was strapped in, police said.
After colliding with the Jetta the truck hit a tree and a hollow-tile wall then flipped over and landed upside down on a car parked at 87-1468 Farrington Highway.
The truck driver was not wearing a seatbelt and also was ejected, landing on the right shoulder of the road, police said. He was pronounced dead at the scene.
Miles was taken to the Queen's Medical Center, where he died.
A 28-year-old Waipahu woman was trapped in the truck and had to be pried out by fire-rescue personnel, police said. She suffered minor injuries and was in good condition, police said.
There were four other people in the Jetta. The driver was a 27-year-old man, and the front passenger was a 37-year-old woman. In the backseat with the 3-year-old boy was a 1-year-old girl who was in a child restraint seat, and a 21-year-old woman. The survivors were hospitalized in serious condition at the Queen's Medical Center. They live in Waianae, police said.
The deaths are the 14th and 15th traffic fatalities on Oahu in 2008, compared with 32 at the same time last year.