| | |
| --- | --- |
| | Island Mele |
---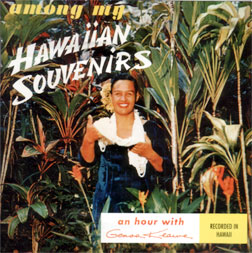 "Among My Hawaiian Souvenirs"
Genoa Keawe
(HanaOla)
No one does reissues of out-of-print Hawaiian records better than Michael Cord's HanaOla Records organization. Keawe made these recordings in 1956, for instance, but the sound quality is excellent. The liner notes include the original annotation along with five pages of up-to-the-minute background information.
The songs are Hawaiian and hapa-haole standards -- those that were new back in 1956 have since achieved that status -- and Keawe makes each of them her own. Who could have anticipated then that she'd still be singing them 50 years later?
Aside from the beauty of these timeless performances, it's also interesting to hear how Keawe holds a single pure note for extended periods on "E Mama E" and "Kalamaula." These recordings show that she was using that technique years before "'Alika" became her signature number.
Keawe's three duets with her son, Gary Aiko, are exquisite as well.
---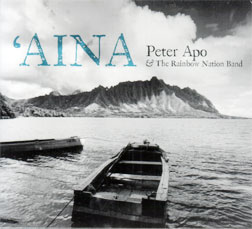 "'Aina"
Peter Apo & The Rainbow Nation Band
(Mamo)
Sovereignty and Hawaiian nationalism are the themes that percolate through this politically progressive project by the 11-member group.
Apo is one of the pioneers of modern mele ku'e ("songs of resistance"); he produced and released "Hawaiian Nation: A Call for Hawaiian Sovereignty," a full-length album of mele ku'e in 1990. Other members include Dan Del Negro, Zanuck Lindsey, Wendell Ching, and vocalists Yvette Nii, Christi Ching and Robi Kahakalau.
Several songs have strong nationalist messages. Liko Martin's "Hawai'i Loa," and "Hawaiian Soul," written and first recorded by Jon Osorio and Randy Kamuela Borden, are already standards. There's also a new arrangement of "Sovereignty Song," which Apo co-wrote with Jeff Rasmussen for the "Hawaiian Nation" album nearly 20 years ago,
Some of the newer pieces share idealized views of our island culture. Apo honors a long list of modern Hawaiian patriots with "Mother Nation." A place song, "Waianae," expresses his love for his longtime home district.
Apo was a mainstream American folk singer in the 1960s, and most of the arrangements have a folkish country-rock feel.
Replacing the synth-track horns with live musicians would add impact, but the message comes through nonetheless.
---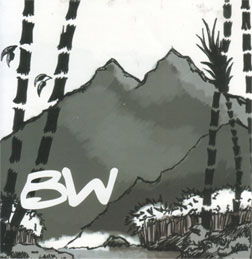 "Upflow"
Brad Watanabe
(NinjAfire)
Brad Watanabe makes a welcome statement in authentic spiritual-roots reggae with this economically produced calling card. Watanabe is the voice and primary musician (guitar, bass and keyboards); three friends lend support with drums, additional guitar and backing vocals.
Watanabe goes to the Bible for the lyrics of one song. All the rest are entirely his own work.
The arrangements are simple but sufficient vehicles for his observations on the importance of spiritual consciousness. The rhythm section is solid throughout, and Watanabe sings without any annoying faux-rasta affections. Good work, all in all, from an unpretentious and noteworthy player in Hawaii's reggae music scene.
---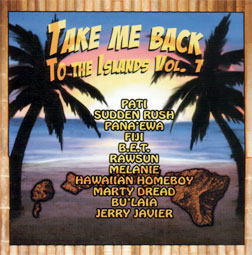 "Take Me Back To the Islands Vol. 7"
Various artists
(Vizzun Entertainment)
Behold yet another album of Jawaiian recordings from Vizzun Entertainment! Whether its releases are anthologies or compilations of new recordings, they're another one just like the other one.
As usual, the selections combine catchy rhythms, soulful voices and affected faux-Jamaican accents in equal measure. The anonymous producers identify the singers and producers of the tracks, but omit any information of who these people are. Fiji, B.E.T., Sudden Rush and Bu La'ia need no introduction. Others would benefit from at least a short bio.
A good number of the songs are worth hearing. "Pure Aloha" and "Ooh La Pure Aloha" are imaginative committee projects that develop the same basic material into two separate songs.
On the other hand, Pana'ewa's use of other artists' music in two lengthy medleys without including composers' credits is an embarrassment to the Jawaiian music industry.
John Berger
, who has covered the local entertainment scene since 1972, writes reviews of recordings produced by Hawaii artists. See the Star-Bulletin's Today section on Fridays for the latest reviews. Reach John Berger at
jberger@starbulletin.com
.