---
FAST FACTS HAWAII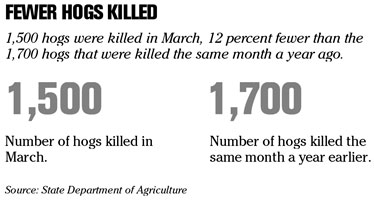 ---
HAWAII
Hawaiian, United to share codes
Hawaiian Airlines
, filling the void left by Aloha Airlines' demise, has reached a code-share agreement with
United Airlines
.
Under the agreement, United's Mileage Plus members will be able to accrue and redeem frequent flyer miles when flying interisland on Hawaiian.
United, whose 18 daily flights to Hawaii outnumber those of any other carrier, had a similar agreement with Aloha before the local carrier shut down passenger operations on March 31. United said it expects to begin offering code-share flights at the end of this summer.
PUC approves solar installation
The state Public Utilities Commission will allow
Hawaiian Electric Co.
to purchase power from a photovoltaic system to be installed by Kapolei-based
Hoku Solar Inc.
on its Archer Substation at Ward Avenue this year.
The project has been expanded to 218 kilowatts from the 167-kilowatt system announced last May after HECO determined the substation roof could handle more capacity.
The utility filed the purchase agreement with the state in late January.
The system is expected to be in service by the end of this year, with Hoku charging an undisclosed fixed rate for power through the next 20 years. HECO has the option to purchase the system after five years.
AT&T extends 3G to Maui, Kauai
AT&T Inc.
said yesterday it has expanded its third-generation, or 3G network, to Maui and Kauai, after launching the network in November on Oahu.
Service to the Big Island is expected this summer.
The service allows customers in the network's service area to download pictures, videos, music and other programming at 1.4 megabytes a second and upload at up to 500 kilobytes a second. Other 3G applications include live video sharing with other AT&T 3G customers and high-speed Internet access.
In the past three years, AT&T has invested $50 million in Hawaii on its wireless network, including more than $25 million planned this year.
NATION
Mortgage rates edge downward
WASHINGTON » Rates on 30-year mortgages edged down this week, a spot of welcome news to would-be home buyers.
Freddie Mac, the mortgage company, reported today that 30-year fixed-rate mortgages averaged 6.01 percent for the week ending May 15. That was down from last week's 6.05 percent and was the lowest since mid-April when rates averaged 5.88 percent. A year ago, rates on 30-year mortgages stood at 6.15 percent
Five-year adjustable-rate mortgages dropped to 5.57 percent, from 5.67 percent last week. One-year adjustable-rate mortgages fell to 5.18 percent, compared with 5.29 percent. However, rates on 15-year fixed-rate mortgages, a popular choice for refinancing, held steady at 5.60 percent this week.
Yahoo chairman rebuffs Icahn
SAN FRANCISCO »
Yahoo Inc.
's chairman, Roy Bostock, rejected late yesterday accusations from the billionaire investor Carl C. Icahn that the company's board had acted irrationally in turning down a $47.5 billion takeover offer from Microsoft and repeated that Yahoo remained open to a deal at the right price.
Icahn announced earlier in the day that he intended to initiate a proxy fight to replace Yahoo's board with 10 new directors that would try to negotiate a merger with Microsoft Corp. However, Microsoft spokesman declined to comment about Icahn's efforts yesterday and repeated that the company had "moved on."
Star-Bulletin staff and news services
New Hires/ Promotions
» Outrigger Enterprises Group has announced the following appointments:
William "Bill" T. Comstock to general manager of the Outrigger Reef on the Beach. He has 30 years of hospitality and management experience.
Elizabeth "Ellie" Agustin to integrated marketing manager for the travel agent market segment from Outrigger specialist administrator and marketing coordinator. She has been with the company for 18 years.
Hitomi Saunders to marketing manager of the Japan sales division from sales and marketing assistant of the same division.
» Sea Life Park has announced the following appointments to its sales and marketing department:
Ron Adams to director of independent markets and corporate group sales. He has 30 years of experience in this field.
Wes Chong to director of wholesale leisure and web company sales. He has 25 years of experience in sales and marketing.
» Hawaii Pacific University has promoted Sita Chhabra to director of marketing from assistant director of graduate marketing. She will oversee the university's promotional strategies for the local, national and international communities.
» Y. Hata & Co. has named Russell Hata interim president and chief executive officer. He replaces Laurence Vogel, who will be retiring after serving the company for 10 years. Hata has also been elected as chairman of the board, replacing his father Frank Hata.
Awards / Certifications
» The National Association of Realtors has awarded Coldwell Banker Pacific Properties realtor
Jane Miller
with the Realtor Emeritus designation. The award is given to realtors who have held membership in one or more Association of Realtors for a cumulative period of 40 years or more. She has nearly 50 years experience in the Hawaii real estate industry.
» The American Academy of Water Resources Engineers has named Oceanit senior environmental engineer Travis Hylton as a diplomate water resources engineer. The certification was developed to improve the practice and advance the profession of water resources engineers. Hylton is the second engineer in Hawaii to receive this distinction.
» Modern Healthcare Magazine has named Hawaii Medical Center chief executive officer Dr. Danelo Canete one of the Top 25 Minority Executives in Healthcare. The reader-submitted nominations are judged on criteria including candidates' leadership within and outside the organization or company, mentorship to fellow healthcare executives, and willingness to share expertise with others in the field.


---
BUSINESS PULSE