---
FAST FACTS HAWAII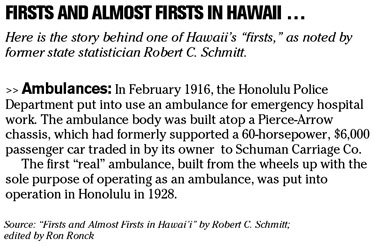 ---
NATION
Super Bowl ads to go for $3M
General Electric Co.
's NBC Universal plans to charge advertisers $3 million for a 30-second spot during next year's Super Bowl.
The price exceeds the average $2.7 million News Corp.'s Fox got for a 30-second ad in this year's football championship game.
The Feb. 3 Super Bowl, where the New York Giants beat the New England Patriots, attracted a record 97.5 million viewers. Fox sold 90 percent of its ad space two months before the game as marketers favored live programs that viewers are less likely to skip with digital recorders.
Apple agrees to give refunds
Apple Inc.
, maker of the iPod media player, has agreed to pay refunds of $25 to $79 to as many as 2.3 million customers to resolve claims that PowerBook and iBook power adapters were defective.
Customers who bought certain replacement adapters are eligible for the settlement, according to documents filed Jan. 25 in federal court in San Jose, Calif. As many as 2.3 million customers bought the devices, according to the court documents.
U.S. District Court Judge James Ware in San Jose granted preliminary approval of the settlement March 24. Susan Lundgren, an Apple spokeswoman, declined to comment.
Americans unlikely to quit travel
The dollar may be slumping steadily and Americans' disposable income may be shrinking, but just try keeping them home.
Travel organization AAA and Global Insight, a forecasting company, predicted 25.1 million Americans will be crossing borders for leisure travel this summer, up 2.6 percent from last year. And they're expected to spend more than ever: $30.7 billion in June, July and August, up 5.7 percent from last year.
"Those that choose to make these trips are reallocating their budgets," said Ken McGill, executive managing director of Global Insight, a forecasting company.
Vacationers will cut shopping and entertainment out of their travel budgets, and will cut household expenses before they nix travel plans, McGill said.
The forecast is based on an economic model that includes aggregated data about the U.S. economy, domestic spending, foreign exchange rates, historic travel data, inflation in travel costs and other factors.
How to make job postings alluring
A tight labor market is no excuse for lazy job postings. Candidates may flock to ads, but to attract the best potential employee, job listings need to generate excitement about the company and articulate benefits to the hire while being short, clear and punchy.
Some tips from Michael Jalbert, president of MRINetwork, an executive search company:
» Don't drone on and on about a position's responsibilities and requirements. Keep postings short.
» Sell the job's strengths: Get in a "what's in it for me" statement at the end of a posting. Job candidates need to know why the position is valuable and interesting.
» Make sure salary and benefits match what competitors are offering. Job-seekers today can research other companies' offerings and determine their value.
» In precise, crisp language, make clear the brand of your company and why it's a valuable workplace.
» For junior positions, creative or cutting-edge wordplay can be acceptable; for senior management roles, keep language drier and professional.
---
BUSINESS PULSE