BOOKS
Isle Pages
New releases from Hawaii authors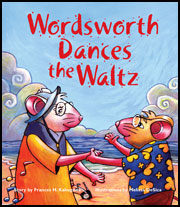 "Wordsworth Dances the Waltz"
by Frances H. Kakugawa
(Watermark, 2007, $10.95)
Kakugawa's children's book won bronze awards in the Best Book Overall and Illustrated Children's Book categories.
The story of a Hawaiian mouse named Wordsworth teaches children that as their grandparents age, they might change and grow forgetful. It is dedicated to Kakugawa's late mother, Matsue, who had Alzheimer's disease.
Kakugawa, who now lives in Sacramento, Calif., taught school on Oahu and the Big Island before retiring and was a teacher trainer at the University of Hawaii.
STAR-BULLETIN STAFF