---
FAST FACTS HAWAII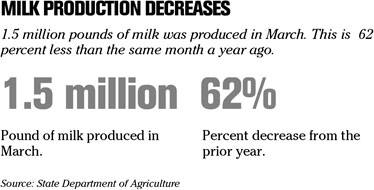 ---
HAWAII
Mac nut grower posts loss
ML Macadamia Orchards LP
, the state's largest macadamia nut grower, swung to a loss of $264,000 in the first quarter, citing reduced production, falling nut prices and higher cost of sales.
FHB, Mitsubishi in estate deal
First Hawaiian Bank
signed an agreement yesterday with one of Japan's largest trust banks, Mitsubishi UFJ Trust and Banking Corp., to provide estate settlement services for Japanese citizens.
Mitsubishi UFJ Trust, a unit of Mitsubishi UFJ Financial Group Inc., has a network of 77 branches and 15 satellite offices in Japan and at the end of 2007 had trust assets of around $1.2 trillion and wills encompassing about $53 billion.
"Hawaii has long been an attractive investment market for Japanese citizens and we anticipate continued investment growth in the future," said Don Horner, First Hawaiian's president and chief executive.
Store resells building materials
Hawaii's first building material resale warehouse has opened its doors in Hilo.
The Arc of Hilo -- a nonprofit serving people with disabilities through educational, vocational and skill training -- launched the Laulima Hana Resale Store with $200,000 from the Hawaii Island Economic Development Board.
At Laulima Hana, which means many hands working together, contractors and remodelers who donate the items can get a tax deduction, while homeowners can get a break on the costs of materials.
Laulima Hana's retail hours at 230 Kekuanaoa St. in Hilo are 7:30 a.m. to 4 p.m. Monday through Friday, and 8:30 a.m. to 4:30 p.m. Saturdays. Interested donors can call 935-3884 for a list of acceptable items.
NATION
FedEx cuts forecast, blames fuel
MEMPHIS, Tenn. »
FedEx Corp.
cut its fourth-quarter earnings expectations yesterday, blaming continuing increases in fuel costs.
The Memphis-based shipping company said it expects profits of $1.45 to $1.50 per share for the three months ended May 31, down from its previous prediction of $1.60 to $1.80 per share.
FedEx customers pay surcharges to help offset fuel costs, but the company said the surcharges "cannot keep pace in the short-term with rapidly rising fuel prices."
FedEx also said that the new earnings forecast "assumes no additional increases to the current fuel price environment and no further weakening of the economy."
Nevada casinos' win is down
CARSON CITY, Nev. » A soft economy continued to cut into winnings of Nevada casinos during March as the clubs won $1.04 billion for a 1.5 percent decline compared with the same month a year earlier, a state report showed yesterday.
The slump was the third consecutive monthly decline statewide. A market-by-market breakdown in the Gaming Control Board report showed a similar month-over-month decline for the Las Vegas Strip -- and the ninth consecutive monthly slump for the Reno-Sparks-North Tahoe area.
The $1.04 billion win was the amount left in casino coffers after gamblers wagered $13.9 billion during March, including $11.5 billion in slot machine bets and the balance on table games.
WORLD
Hong Kong OKs foreign listings
HONG KONG » Hong Kong's stock exchange said yesterday it will allow foreign companies to list shares through depository receipts for the first time, hoping to draw more business from abroad.
The exchange said in a statement the July launch of Hong Kong depository receipts, or HDRs, is targeted at foreign companies whose local regulators don't allow them to list shares directly on overseas stock exchanges.
The South China Morning Post quoted Hong Kong stock exchange chairman Ronald Arculli as saying the plan will likely draw companies from Russia, Vietnam, India, Kazakhstan and the Middle East.
BRIEF CASE
MANY TONGUES: Olympic-themed Coke cans, bottles and packages will arrive in stores May 19 as Coca-Cola Co. begins rolling out its U.S. promotions for the Beijing Summer Games, Coke said yesterday. For the first time in the United States, the cans, bottles and packages will feature the Coca-Cola script in different languages, including Ethiopian, Russian, Thai and Mandarin.
---
BUSINESS PULSE