Options to gas-tax holiday sought
Hawaii congressional leaders reject the idea amid ever-rising prices
While gasoline prices continue to set new highs both nationally and locally, members of Hawaii's congressional delegation say Congress should explore options other than a summertime suspension of the federal gasoline tax to try to bring down costs.
"This is one of those ideas that may sound great at first but, when you look a little more closely, makes no sense," U.S. Rep. Neil Abercrombie said of the proposed "gas-tax holiday."
A summertime gas-tax suspension was first proposed by U.S. Sen. John McCain, the presumed Republican presidential nominee, and has become a hot-button political issue because of the opposing stances taken by U.S. Sens. Barack Obama and Hillary Rodham Clinton in the race for the Democratic nomination.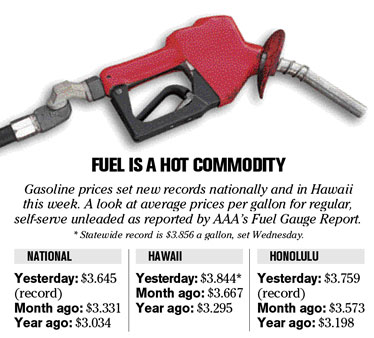 Clinton supports the idea while Obama opposes it.
The federal gasoline tax is 18.4 cents a gallon, with the money put into the federal Highway Trust Fund.
Supporters of the tax holiday say a suspension through Labor Day would help consumers who are struggling to meet the high cost for gasoline, which was at a record $3.645 a gallon nationwide yesterday.
Hawaii prices are also at record highs. Yesterday's statewide average of $3.844 a gallon was a penny below the record high set the previous day, while the Honolulu average reached a record high of $3.759. Hawaii gasoline also is subject to county fuel taxes, which vary by island with Maui County the highest at 18 cents a gallon.
Opponents of the tax holiday call it a shortsighted approach that would drain the federal highway fund, ending most roadwork projects and cutting jobs across the country, all with no guarantee that oil companies would pass along savings to consumers.
Abercrombie said the tax holiday would cost Hawaii about $30 million in federal funds for highway repairs and upgrades.
He was among 29 members of the U.S. House, all Democrats, who signed a statement this week rejecting the idea of a federal gas-tax holiday.
"The increased price at the pump, coupled with the White House's failure to end America's addiction to oil, has hurt American families and weakened our economy," the statement reads in part.
It notes that Congress has already begun to chart a new direction in energy policy by attempting to reduce demand for foreign oil, improve automobile efficiency standards and increase the use of alternative and renewable fuels.
Although she was not among the 29 who signed the House statement, U.S. Rep. Mazie Hirono echoed its opinion.
"In reality, it will not save individual drivers much nor will it guarantee that gas prices will be lowered," Hirono said in a statement released through her office.
"Instead of a gas-tax holiday, we should first start by eliminating the billions of dollars in tax breaks given to big oil," she added.
Senate Democrats introduced an energy package this week that ignores the calls for the tax holiday.
Instead, the proposal calls for a windfall-profits tax on oil companies and a rollback of $17 billion in oil industry tax breaks. It also would impose federal penalties on energy price gouging and calls for stopping oil deliveries into the government's emergency reserve.
U.S. Sen. Daniel Inouye, Hawaii's senior member of the chamber and chairman of the Commerce, Science and Transportation Committee, said he is involved in drafting the bill.
"I think we've got enough votes, but we'll see," Inouye said in a telephone interview with the Star-Bulletin.
U.S. Sen. Daniel Akaka's office said he will wait to review all the potential legislation before taking a position.
Jesse Broder Van Dyke, Akaka's press secretary, said the senator "continues to be a strong supporter of legislation that promotes alternative energy resources, conservation, and free and open trade of oil on the international markets."
Star-Bulletin reporter Richard Borreca and the Associated Press contributed to this report.