| | |
| --- | --- |
| | Island Mele |
---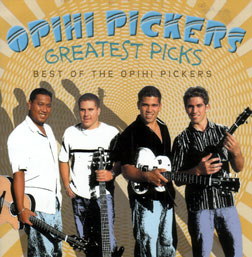 "Greatest Picks"
Opihi Pickers
(Go Aloha Entertainment)
The Opihi Pickers -- founding members Hoku and Imua Garza, plus Kahale Morales and Kevin Okimoto -- are disbanding for the foreseeable future to pursue individual projects. They sign off with this anthology: two new songs and 14 from four of their five previous albums. The decision to omit everything from their 1998 debut, "Fresh Off The Rocks," might be due to the fact that it was released by another label, but it also was the weakest release in terms of repertoire and performance. Although Imua Garza's skill on the ukulele was already apparent in 1998, their second album, from 2001, when there were five members in the group, was so much better in all respects that it was the group's rebirth. "Victim," the most interesting song back in 2001, is included here.
Taking these 16 songs as representative of everything the Pickers have recorded, it's interesting to see how consistent they've been with a successful format: romantic, boyish vocals, semiacoustic Jawaiian and Pure Heart-style pop arrangements, and Imua Garza's melodic embellishments on ukulele. Why mess with success?
The fact is that they've also recorded some noteworthy instrumentals over the years. Including one or two, such as "Palomas Volando," from last year's "OP IV," for example, would have made this final musical portrait a bit more complete.
---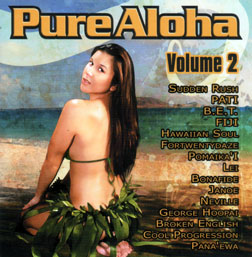 "Pure Aloha Volume 2"
Various artists
(Vizzun Entertainment)
Is this an anthology of previously released material or a compilation of new recordings? Give the unidentified producers credit for including performers' credits, but that's all the information they provide about these 15 contemporary Jawaiian songs. Oh well.
The roster is a hodgepodge of major artists past and present -- Fiji, B.E.T., Sudden Rush, Pati -- along with unknowns of varying talent; the latter would have benefited from better annotation. Lei, whoever she is, is one worth hearing.
The selections reflect the usual strengths and weaknesses of the genre. Catchy rhythms, soulful harmonies and political consciousness are commendable. The affected faux-Jamaican accents and unaccredited use of other artists' music are not.
---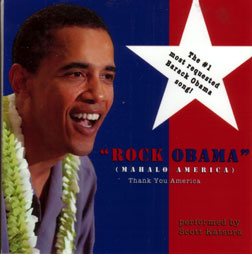 "Rock Obama (Mahalo America)"
Scott Katsura
(Airtime)
Expatriate islander Scott Katsura (aka Scott Allen) jumps into the current political fray with this song supporting Hawaii-born presidential candidate Barack Obama.
Katsura pairs a catchy, rhyming phrase -- "Barack Obama-bama, rock Obama-bama" -- with equally catchy techno club rhythms to hammer home a message of patriotic optimism. It is a potent combination, perfect for dance club play. Katsura never actually says, "Vote for this man," but the production values make it natural to "rock Obama-bama."
"Rock Obama (Mahalo America)" is available on iTunes and at www.scottkatsura.com.
John Berger
, who has covered the local entertainment scene since 1972, writes reviews of recordings produced by Hawaii artists. See the Star-Bulletin's Today section on Fridays for the latest reviews. Reach John Berger at
jberger@starbulletin.com
.