---
FAST FACTS HAWAII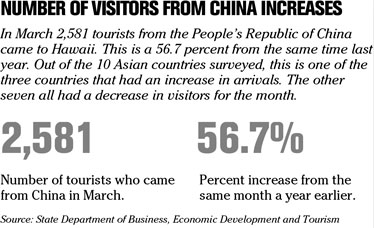 ---
HAWAII
Gas Co. workers reach labor deal
The Hawaii Teamsters & Allied Workers Local 996 and the Gas Company have agreed to a new contract including wage increases of almost 18 percent over five years.
The new contract covers more than 200 Teamster members on Oahu, Kauai, Maui, Molokai, Lanai and the Big Island.
Teamsters president Ron Kozuma said some members were calling the agreement "the best contract they've ever had." It was approved by 90 percent of Teamsters employees, he said.
Jeffrey Kissel, president and chief executive of the Gas Co., a unit of Macquarie Infrastructure Co., said the deal is "a good contract for both our employees and our company."
Isle firm wins $27.5M contract
Innovative Technical Solutions Inc.
, doing business as NovaSol, Honolulu, Hawaii, has been awarded a $27.5 million contract to develop a reconnaissance and data exploitation system for the U.S. Naval Air Systems Command Avionics Department.
The company has developed a optical system that allows for high-bandwidth data communications, said Rick Holasek, NovaSol's president and chief executive officer.
They also plan to use a miniaturized high-tech camera system to perform reconnaissance that can be used in unmanned aerial vehicles (UAVs), Holasek said.
Novasol will use its current Honolulu staff for the contract, which runs through May 2013, he said.
Mortgage credits available
The Hawaii Housing Finance and Development Corporation is taking applications for up to $20 million in mortgage credit certificates to first-time homebuyers of low to moderate income.
Authorized by Congress in 1984, the credits reduce homebuyers' federal income tax, giving participants more available income to qualify for a mortgage.
For more information, contact Darren Ueki, HHFDC Finance Manager, (808) 587-0586 or visit www.hawaii.gov/dbedt/hhfdc/homebuyers/MCC_html
Realtors try smarter lockboxes
The Honolulu Board of Realtors is one of three real estate associations nationwide to begin using lockboxes that employ smart-card technology.
The SentriLock LLC lockboxes use programmable electronic cards to manage access to homes for showings of listings and rentals. The cards contain an encrypted chip, designed to be immune to magnetic fields.
The technology lets agents manage lockbox settings and showing information online. The also can set up one-day codes so that agents from outside the area, contractors and appraisers can access the property.
Deployment is set for the next 90 days in Honolulu. Boards in the Chicago and Denver areas also will begin using the SentriLock systems.
---
BUSINESS PULSE