---
FAST FACTS HAWAII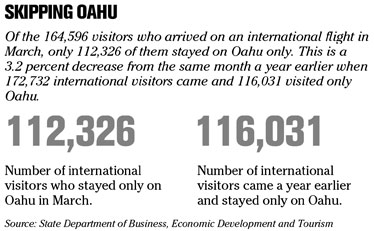 ---
HAWAII
HawTel switches 411 provider
Hawaiian Telcom
has chosen
Pacific Telecom Inc.
to fill the void left by
Metro One Telecommunications
' decision to withdraw from the directory assistance business nationwide.
The transition from Metro One to PTI is expected to be completed over the next 60 days. To ensure that there will be minimal impact to its customers, Hawaiian Telcom has made arrangements with Metro One to assist in the transition and to continue to provide directory assistance service until PTI takes over.
Metro One had been struggling financially for years, having lost money each quarter since the first quarter of 2003. The company announced in March that it planned to exit the Hawaii market and that it would layoff off all of its 50 employees.
PTI, which is based in the Commonwealth of the Northern Mariana Islands, currently provides telecommunication service, including directory assistance, to the commonwealth and Guam.
Executives talk sustainability
Representatives of
Wal-Mart Stores Inc.
and
Hagadone Printing Co.
will discuss their companies' environmental goals at a Hawaii Publishers' Association luncheon seminar tomorrow.
Kevin Loscotoff, senior public affairs manager for Wal-Mart, will explain what the retailer is doing locally and chainwide to reach its goal of being 100 percent powered by renewable energy with zero waste.
Erwin Hudelist, president of Hagadone, will detail more than a decade of sustainability efforts, which won the printing company an environmental award as long ago as 1994.
The seminar runs from 11:30 a.m. to 1:00 p.m. at Natsunoya Tea House. For more information, see the hawaiipublishersassociation.com or call 234-1288.
NATION
Fed: Banks tightening standards
WASHINGTON » The Federal Reserve reported yesterday that more banks are tightening lending standards on home mortgages, other types of consumer loans and business loans in response to a spreading credit crisis.
The Fed said the percentage of banks reporting tighter lending standards was near historic highs for nearly all loan categories.
The survey, conducted in April, found that nearly two-thirds of banks surveyed had tightened lending standards on traditional home mortgages, with 15 percent saying those standards had been tightened considerably.
Microsoft-Yahoo: Stay tuned
SAN FRANCISCO »
Yahoo Inc.
's stock took a beating yesterday after
Microsoft Corp.
withdrew its $47.5 billion takeover bid, but the punishment wasn't as severe as many analysts anticipated because investors suspect the rivals eventually will renew their mating dance.
Yahoo shares shed $4.30, or 15 percent, to close yesterday at $24.37. That wiped out nearly half the gain they made after Microsoft made its bid Jan. 31. Yahoo's stock price was $19.18 before Microsoft made its offer.
Stanford Group analyst Clayton Moran said, "Microsoft is trying to make it seem like it's not coming back (with another bid), but this somewhat muted reaction shows the market isn't buying it."
---
BUSINESS PULSE