---
FAST FACTS HAWAII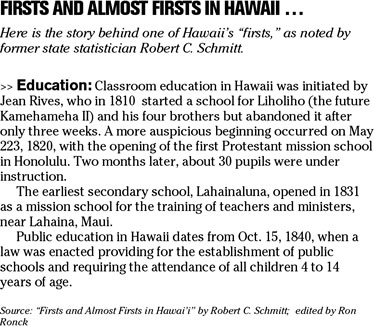 ---
NATION
Cigarette giant raises its prices
Altria Group Inc.
, the largest U.S. tobacco company, said it will raise prices on top-selling Marlboro and its other cigarette brands as of today to cover higher costs.
Altria will cut its distributors' discount on Marlboro, Basic and L&M cigarettes by 9 cents a pack while eliminating the discount of 20 cents on Parliament, David Sylvia, a spokesman for the Richmond, Virginia-based company, said today in a telephone interview. A price increase of 9 cents a pack will be implemented for Virginia Slims and Altria's remaining brands.
The increases follow Altria's first earnings report after spinning off its overseas tobacco unit. Operating profit fell short of expectations by Judy Hong, a Goldman Sachs Group Inc. analyst in New York.
Hong removed Altria from Goldman's "conviction buy list" on April 25 while still advising investors to buy the stock. She cited costs for shifting production and closing Altria's New York headquarters and Marlboro promotional spending that was higher than she had expected.
More companies utilize pro bono
As companies face shrinking budgets and the threat of talent shortages, many are looking to their pro bono programs as a source for skill development.
Rather than cleaning public parks, companies are lending the skills of their employees to nonprofits and small businesses around the world.
A telephone survey of 250 managers from Fortune 500 companies found that 91 percent say they find value in using their volunteer programs as a tool for training, according to consulting firm Deloitte Services LLP. Still, only 16 percent regularly offer such projects to employees.
"Corporate America is slowly identifying or clarifying an opportunity for volunteerism, to be more strategic and not just to do a nice thing," said Evan Hochberg, director of community involvement for Deloitte. "Traditional programs help softer skills, like leadership, and there's always a place for doing things like planting trees. But there is greater societal impact when you offer out skill sets that employees are educated and experienced in."
More than $100 billion is spent annually on training and development, making volunteerism an attractive alternative, Hochberg said.
"There's no question that this is a low-cost option -- especially for those who already have these programs in place," Hochberg said. "They only need to align these partnerships with their job training, and recognize the value in that."
Don't become a difficult colleague
Everyone's had to work with some version of one -- the co-worker that's flaky, grumpy, lazy, defensive, or cynical.
That's why Robert Orndorff and Dulin Clark wrote a how-to guide to be published by JIST Publishing this summer -- "The PITA Principle" -- for how to deal with a PITA, which stands for pain in the -- er-- butt.
More importantly, the book has pointers on how to avoid becoming a difficult colleague: Professionals Increasing Their Awareness.
"Everyone works with, or has worked with, a negative, mean-spirited, or uncooperative co-worker, but there's also the soggy, needy, whiney ones," Orndorff said. "We all have a little of that in ourselves, and it's important to recognize when we're in situations or with certain people who bring that out of us."
There are extreme examples of grating co-workers -- those who deflect feedback, push their work on others or talk behind your back. But no one is "PITA-proof," and some of your subtle tendencies might be wearing thin on someone else, Orndorff said.
"Those who don't like social events might be seen as a downer, or if you're unorganized you might be seen as a liability when it comes to getting a report in on time," he said. "By heightening your level of awareness, you can make adjustments to keep your habits in check."
Many business owners optimistic
America's small business owners are optimistic in the face of the economy's downturn, with the majority planning to expand their operations despite cash-flow concerns and soaring energy costs, according to a recent survey for
OPEN from
American Express
.
More than a third of small businesses plan to hire full or part-time staff over the next six months, according to the telephone survey of 627 owners and managers of companies with fewer than 100 employees. The poll was conducted by Echo Research.
"You can't deny that it's a tough time for everyone, but these entrepreneurs take it in stride and see themselves as in charge of their own destiny," said Alice Bredin, small business advisor for OPEN. "This is a good opportunity for them to hire people leaving other jobs, talent that was not available to them a year or two ago. They can also pick up office equipment for a cheap price."
The survey found that 9 out of 10 small business owners said they saw the glass as half-full.
"They're positive because when they see their friends or people they know losing jobs, they're grateful to be where they are and appreciate the lifestyle they have, now more than ever," Bredin said.
---
BUSINESS PULSE