---
FAST FACTS HAWAII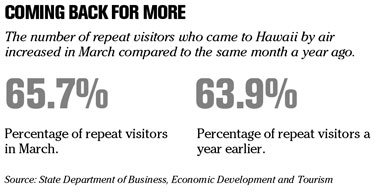 ---
HAWAII
Judge OKs Mesa settlement
Federal Bankruptcy Judge Robert Faris has approved a settlement in which
Mesa Air Group
, parent of interisland carrier go!, will pay
Hawaiian Airlines
$52.5 million to settle a lawsuit regarding the misuse of confidential information obtained in 2004 during Hawaiian's bankruptcy.
The agreement was approved by Faris on Thursday, and Hawaiian is expected to receive the money on Monday.
Mesa had posted a $90 million bond in November to cover its appeal after Faris ruled in Hawaiian's favor last October. Under the settlement, Mesa keeps the remaining $37.5 million.
NATION
Nonunion Delta workers get raise
ATLANTA »
Delta Air Lines Inc.
announced a 3 percent pay raise for its nonunion employees, effective July 1.
The announcement yesterday comes as Delta flight attendants vote on whether to join the Association of Flight Attendants. But a Delta spokeswoman said the raises and the union vote were coincidental.
The voting by more than 12,000 employees began April 23 and lasts until May 28. If they approve joining the AFA, the flight attendants would join pilots as the only other major work group at the carrier to be represented by a union.
Delta spokeswoman Betsy Talton said the pay increase is something that has been planned since the airline emerged from bankruptcy just over a year ago. Calls to the AFA were not immediately returned.
Gas prices see 1st drop in weeks
NEW YORK » Retail gas prices fell slightly yesterday -- the first time in 18 days they haven't risen to a new record -- and analysts say pump prices may be peaking for the year.
The national average price of a gallon of regular gas fell 0.1 cent overnight to $3.622, according to a survey of gas stations by AAA and the Oil Price Information Service. That's the first time since April 14 that retail prices have fallen. Diesel prices fell 0.2 cent to a national average of $4.249 a gallon.
"It could go up just a little bit more," said Fred Rozell, retail pricing director at the Oil Price Information Service, in Wall, N.J., but, "I think it's running out of steam."
Soaring gas prices are cutting demand for gasoline, and analysts have long theorized that falling demand will eventually force prices lower.
Amazon sues over sales tax
ALBANY, N.Y, »
Amazon.com
is suing New York over a new law that requires out-of-state online companies to collect sales tax from shoppers in New York.
"We are challenging the constitutionality of the recently enacted legislation in New York," Amazon spokeswoman Patricia Smith said.
Officials estimated the state would gain about $50 million by requiring Internet giants such as Amazon.com to collect state sales tax.
The suit argues the change unfairly targets Amazon, is overly broad and vague, and violates the commerce clause of the constitution because it imposes tax-collection obligations on out-of-state entities.
Toys 'R' Us' profit rises
WAYNE, N.J. »
Toys "R" Us Inc.
, the largest U.S. toy-store chain, said fourth-quarter profit rose 39 percent on higher international sales and a declining dollar.
Net income increased to $312 million from $224 million a year earlier, the retailer said yesterday in a statement. Sales for the three months ended Feb. 2 climbed 2.6 percent to $5.83 billion.
International sales advanced 8.4 percent as Toys "R" Us also opened new locations. Chief Executive Officer Gerald Storch boosted same-store holiday sales at U.S. locations by stocking up on Nintendo Co.'s Wii game console and Hannah Montana dolls, helping it fend off competition from discounter Wal-Mart Stores Inc.
Revenue at U.S. toy stores dropped 0.5 percent to $2.9 billion, hurt by one less week of sales than in last year's fourth quarter. Sales at stores open at least 56 weeks increased 3.2 percent.
---
BUSINESS PULSE