Vegas Mike's 'Acid' party washes over Sin City
IF YOU didn't get a chance to say goodbye to
Mike Licata
last month at NextDoor, you'll have to board a plane for some face time with the man they call DJ Vegas Mike.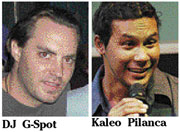 Licata is the driving force behind "Acid Wash Wednesdays," a party that draws hundreds to celebrate '80s music and culture every week in Chinatown. He left Honolulu a few weeks ago to launch a similar party at Ghostbar on the Las Vegas Strip.
"It's gonna be called 'Acid Wash Presents: Less Than Zero,' and it'll be a monthly to start," Licata said. "In Vegas, there's a big problem of people coming in because it's the place to be and they want to be seen ... it's not about the music anymore."
The flashbacks start May 15, with Licata using his Los Angeles connections to score DJ Richard Blade for the kickoff. DJ King Britt will visit this summer, and Licata hopes to fly Honolulu "Acid Wash" resident DJs G-Spot, Nocturna and Eskae in for guest sets later this year.
While opportunities to further expand the "Acid Wash" brand on the mainland exist, Licata promised the original party isn't going anywhere. He expects the Nocturnal Sound Krew to pick up some of the slack, with DJ Dallas joining the fun every first Wednesday starting May 7.
"I'll still be back here for maybe a week or two at a time," Licata said. "Hawaii's been very good to me ... (and) if I don't get a chance to come back regularly, at least I have this to leave behind as my legacy" ...
IF YOU haven't ventured into Waikiki lately, now is a great time to do so.
While the stretch of Kuhio between the Waikiki Trade Center and Lotus Soundbar draws good crowds on the weekends, most of the action has migrated toward the Ewa end of Kalakaua. Waikiki Beach Walk is the main draw (Coconut Willy's is the latest bar to open in that area), but neighboring Royal Hawaiian Center and Sheraton Waikiki have gotten into the act, as well.
Doraku Sushi and P.F. Chang's Waikiki are the latest additions at the Royal Hawaiian; Doraku morphs into a nightclub on select evenings, while P.F. Chang's is good for date night (or just people-watching), especially at the outside tables on the first floor.
Here's an idea: Park at the Sheraton Waikiki for a pau hana drink at RumFire (they offer discounted cocktails early and complimentary four-hour parking validation) before dinner nearby. Cap it off with a beer at Yard House or cream puffs from Beard Papa's, and you've got yourself a fun night ...
YOU DON'T have to wait until Monday to celebrate Cinco de Mayo. On Friday, "La Zona Latina" hosts guitarist Ali Garcia and DJ Azteca at Visions Nightclub. Doors open at 9:30 p.m. for the 18-and-over crowd; call 285-0072 ... Pipeline Cafe welcomes California-based Norteno band Los Gaviales and solo artist Nico Canada on Saturday, with free salsa lessons at 8 p.m. by Aloha Rumberos and special pupu items available. This one is 18-and-over as well; call 593-2226 or 622-5829 for a $10 discount on tickets ... Aloha Tower Marketplace presents its annual block party on Monday, starting at 5 p.m. Gordon Biersch and Don Ho's Island Grill will offer live entertainment and prize giveaways, and a special "Chihuahua Fashion Show and Parade" will return after getting rave reviews last year. Call 566-2337 ...
THIS WEEKEND: The Vertical Junkies score major points for landing the Cool Kids at "F.U.B.A.R. Fridays" this week. Get to Fashion45 early for $3 drinks before midnight, then stay late for an 18-and-over party that goes until 4 a.m. ... Kaleo Pilanca headlines the "Krack Up Kanaks Comedy Show" at One Squared Restaurant in Kaneohe. Pilanca will be joined by Kenny Hune, Big Steve and Elroy; call 429-8255 ... After canceling a trip last year, political punk rockers Leftover Crack play on Oahu this weekend. Doors open at 9 p.m. Friday for an all-ages show at Anna Bannana's, followed by a 21-and-over gig at Kainoa's Sportsbar on Saturday. Doors open at 10 p.m. for that one ...
COMING UP: NextDoor comes correct twice next week, starting with Steve Aoki at "Kaleidoscope" on Tuesday. His paparazzo buddy Mark "Cobrasnake" Hunter is also expected to make the trip ... Aoki will be followed by DJ Z-Trip on Thursday, featuring opening sets by DJs Kavet the Catalyst and Eskae. Be sure to pick up a flier for this one; the cut-out car design is classic ... Also on Thursday, East Coast reggae band John Brown's Body returns to Honolulu for a second appearance at Pipeline. Ooklah the Moc and Go Jimmy Go will open the night around 9 p.m. ...
I'M TAKING a belated spring break of my own starting next week. "In the Mix" will return to HiLife on May 23 ...