---
STYLE FILE
Pendant prize adorns Red Cross Tiffany 8 lunch
The Hawaii Red Cross honors eight founding members of the Tiffany Circle at a Halekulani Luncheon on Sunday, highlighted by a prize drawing for three pieces of Tiffany jewelry.
Honorees are Carolyn A. Berry, Joey Harris, Kitty Lagareta, Kimi Matar, Camille McCormack, Jean E. Rolles, Madison Shimada and Barbara Wong.
The event will begin with a noon champagne reception, silent auction and informal modeling by Tiffany & Co. jewelry, also featuring fashion by New York designer Angel Sanchez.
Entertainment will be by the Honolulu Symphony String Quartet and singer Jordan Segundo.
Tickets are $250, to benefit American Red Cross services in Hawaii. Call 739-8151 or e-mail tiffanycircle@hawaiiredcross.org.
Jewelry creator shows pizazz of unique pieces
Jewelry designer and fashion consultant Ann Sandhu brings her latest creations to Honolulu design atelier Place from 10 a.m. to 2 p.m. today and tomorrow, where she is presenting workshops on how to punch up your fashion statement with unique jewelry pieces.
Known for her work with high-profile clients and such stores as Saks Fifth Avenue, Sandhu has been creating her own jewelry since 2005, seeking out unusual stone colors, cuts and shapes for assembling her necklaces and bracelets.
The workshops are free, but reservations are being taken at 275-3075. If you can't get it, you can still take a peek at the jewelry.
The Place showroom is at 40 School St.
TEENS TACKLE SERIOUS ISSUES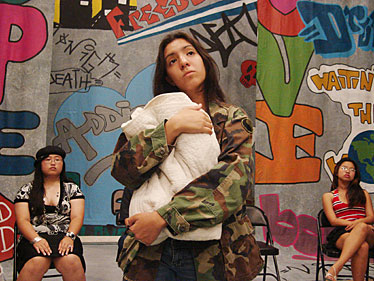 Saint Francis School fair has pony rides, petting zoo
Saint Francis School invites everyone to campus for its Ohana Fair, 10 a.m. to 6 p.m. Saturday.
The fun includes pony rides, a petting zoo, rides, games and prizes, a farmers' market, silent auction, lei stand and white elephant sale.
If food is your priority, the fair will offer a green salad topped with the old Swiss Inn Restaurant salad dressing; smoked sirloin roast, aka Ron's Roast, grilled up by Ron Young, owner of Won Ton & Things; and Agnes' malasadas.
Admission is free. The school is at 2707 Pamoa Road in Manoa. Call 988-4111, ext. 718, or visit www.stfrancis-oahu.org.
Call ahead for seats at taping of KIPO's 'Aloha Shorts'
The next taping of KIPO's "Aloha Shorts," featuring actors reading locally written short stories and poetry, will be at 7 p.m. Sunday, hosted by Cedric Yamanaka.
Ginger Gohier will read poetry and short prose by Jody Manabe Kobayashi; Aito Steele will read J. Freen's "His Rip Off"; and Jamie Simpson will perform Erin Kimura's "The Smell of Rotting Mangoes."
Singer-songwriter Joey Wolpert, a member of the bluesy Chris Vandercook Band, will perform.
Seating is free, but the Atherton Performing Arts Studio at 738 Kaheka St. is pretty small, so reservations are advised and can be made by calling 955-8821.
Buy tickets early for discount to Makaha Sons' annual show
Tickets are on sale for the Makaha Sons annual "Take a Walk in the Country" concert, scheduled for June 7 at Aloha Tower Marketplace.
Performing with the Sons this year are Kealo Koko, Halau Hula 'o Hokulani, Halau Hula 'o Kawaili'ula, Ka Leo 'o Laka I Kahikina o Ka La and Puka'ikapuaokalani Hula Halau.
Advance tickets are $75 reserved, $30 general. VIP tickets of $150 include a buffet catered by Chai's Island Bistro. Tickets remaining closer to the concert date will sell for $50, $100 and $200.
Call 282-3303.