---
FAST FACTS HAWAII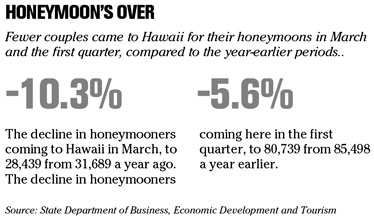 ---
NATION
3Com gets China-based CEO
BOSTON » Edgar Masri was removed as chief executive of data network equipment maker
3Com Inc.
yesterday and immediately replaced by Robert Mao, a fluent Mandarin speaker who will be based in China, which the Massachusetts-based company sees as its biggest market.
The management shuffle -- which comes a month after Masri's proposed $2.2 billion buyout of 3Com was scuttled because of concern over a Chinese company's role -- also brings in Ronald Sege to the new position of chief operating officer and as president of the company, effective today.
Mao, 64, who became 3Com's executive vice president for corporate development in August 2006, left seven months later, though he retained a spot on 3Com's board.
ADM profit jumps 42 percent
CHAMPAIGN, Ill. »
Archer Daniels Midland Co.
cashed in on volatile prices and heavy demand for the corn, soybeans and wheat it processes to generate a 42 percent increase in third-quarter profits.
Profits grew to $517 million, or 80 cents per share, compared with a year-ago profit of $363 million, or 56 cents per share. Revenue surged more than 64 percent to $18.71 billion, from $11.38 billion.
Upbeat IBM raises dividend
CHARLOTTE, N.C. »
IBM Corp.
increased its dividend payout 25 percent yesterday, reflecting the technology company's confidence that it can thrive even with an uncertain economy.
At IBM's annual shareholder meeting, the board of directors upped the quarterly dividend to 50 cents per share. For the past four quarters it had been 40 cents per share.
The move comes two weeks after the Armonk, N.Y.-based company reported a 26 percent jump in profit and raised its earnings forecast for the year. The company also plans to spend $12 billion buying back its shares in 2008.
Countrywide loses $893M
LOS ANGELES »
Countrywide Financial Corp.
said yesterday it lost $893 million in the first quarter, as rising loan defaults amid a deepening housing downturn forced the nation's largest mortgage lender and servicer to sharply increase its provision for loan losses and book other credit-related charges.
The Calabasas, Calif.-based company, which agreed in January to sell itself to Bank of America Corp. for about $4 billion in stock, did not conduct an earnings conference call with analysts, citing the proposed sale.
The company said its loss amounted to $1.60 per share for the quarter ended March 31. A year earlier, it earned $434 million, or 72 cents per share.
Office Depot profit falls
WEST PALM BEACH, Fla. »
Office Depot Inc.
, the nation's second biggest office-supply chain, said yesterday its first-quarter profit dropped 55 percent due to North American sales declines.
The Delray Beach, Fla.-based company said earnings dropped to $68.8 millio compared with $153.8 million a year earlier. Sales dipped 3 percent to $3.96 billion from $4.09 billion. Excluding items, net income dropped to 29 cents per share from 59 cents per share.
Analysts surveyed by Thomson Financial forecast a profit of 22 cents per share on revenue of $4.07 billion.
New hires and promotions
» Bank of Hawaii has announced the following new appointments:
Peter S. Ho to president of Bank of Hawaii Corp. from vice chairman and chief banking officer. He will continue to oversee retail banking, commercial banking and investment services, and serve as a member of the bank's managing committee and board of directors. He has been with the bank since 1993.
Kent Lucien to interim chief financial officer and vice chairman. He replaces Dan Stevens, who will be returning to the mainland. He previously served as chief executive officer operations and chief financial officer for C. Brewer & Co.
Also promoted at Bank of Hawaii were:
Derek A. Baughman, to senior executive vice president and chief information officer from executive vice president. He was project manger at Science Applications International Corp. prior to joining the bank in 1995 and has 20 years experience systems and technology management.
Sharon M. Crofts, to senior executive vice president of operations from chief compliance officer. Her previous jobs include senior vice president at Pacific Century Bank in Calif., managing its commercial deposit division.
Lee Y. Moriwaki, to senior executive vice president of mortgage banking. He has been with the bank for 25 years in management positions in retail banking, finance and investments, trust operations, and information systems and technology.
Dean Shigemura, to senior executive vice president and corporate treasurer. His previous jobs include vice president and financial analyst for The Shidler Group and project manager for Castle & Cooke.
» Roberts Hawaii has named Les Honda as director of guest experiences. His previous jobs include district marketing manager, community relations coordinator and regional community relations coordinator at Borders Group for 15 years, and 16 years in advertising as a designer, illustrator and art director.
» M&E Pacific has hired Barry Muranaka as senior project manager. He will oversee planning and coordination for the firm's large and small scale projects. He previously served at Akinaka & Associates for 23 years as an engineer-in-training, project engineer and later executive vice president in 2003.
» Balboa Capital, based in Irvine, Calif., has promoted former Hawaii resident Phil Silva to president from executive vice president. He replaced founder and current president Patrick Byrne, who will continue as chief executive officer and chairman. Silva has 21 years experience in the equipment-finance industry, including general manager for the American Express Business Finance healthcare and franchise segments.
» The Retina Institute of Hawaii has hired Dr. Philip H. Scharper Jr. to its practice. He is a fellowship trained vitreoretinal surgeon, specializing in diagnosing and treatment of retina diseases. He previously was a vitreoretinal surgeon at Omni Eye Specialists in Baltimore.
» MW Group has named Jeff Gerard as vice president Maui operations. He will oversee operations for Azeka Shopping Center, Kihei Plaza and Kihei Kalama Village, and new business development and leasing on the island. He previously served as general manager of Maui operations.


---
BUSINESS PULSE