Honolulu second lowest nationally in foreclosures
Honolulu had the second-lowest foreclosure rate of the 100 largest metropolitan areas in the first quarter of 2008, according to a survey by the real estate firm
RealtyTrac
.
There were 155 foreclosures in Honolulu during the first quarter of this year, or one foreclosure for every 2,147 households, RealtyTrac found. Honolulu's first-quarter foreclosure rate was a 1.31 percent increase over the fourth quarter of 2007 and a 51.96 percent increase over the first quarter of 2007.
Only the Allentown/Bethlehem/Easton Philadelphia region had a smaller foreclosure footprint, at one foreclosure for 12,328 households, according to the company, an online marketplace for foreclosure properties.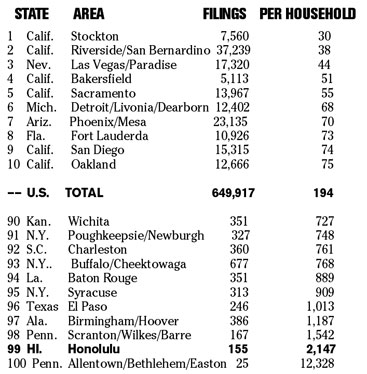 The worst metropolitan area for foreclosures was Stockton, Calif., where there were 7,560 foreclosures, or one for every 30 households. It was followed by Riverside/ San Bernardino, Calif., and Las Vegas.
Nationally, RealtyTrac reported that 649,917 properties were foreclosed on during the first quarter, which represented a 23 percent increase from the previous quarter and a 112 percent increase from the first quarter of 2007.
The report indicates that one in every 194 U.S. households received a foreclosure filing during the quarter.
"Foreclosure activity in the first quarter increased on a year-over-year basis in 46 out of the 50 states and in 90 of the nation's 100 largest metro areas, demonstrating that most regions of the country are seeing more foreclosures," said James J. Saccacio, chief executive officer of RealtyTrac.
By state, Hawaii's foreclosure rate ranked 44th, similar to its recent rankings in RealtyTrac's monthly data. Hawaii had 371 foreclosures during the quarter, or one for every 1,348 households, the company said.
Nevada, California, Arizona, Colorado and Florida posted the top state foreclosure rates during the first quarter.