---
FAST FACTS HAWAII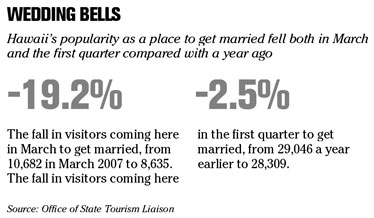 ---
HAWAII
Honolulu foreclosure rate low
Foreclosures were up in Honolulu in the first quarter of 2008, according to a new report, but the county's foreclosure rate ranked second-best among 100 metropolitan areas surveyed.
NATION
Kerkorian wants more of Ford
DETROIT » Billionaire Kirk Kerkorian made yet another foray into the troubled automotive industry yesterday with an offer to expand his stake in
Ford Motor Co.
to 5.6 percent.
Kerkorian's investment company, Tracinda Corp., said in a news release that it sees signs the automaker's turnaround plan is working, and it plans to offer $8.50 per share in cash for up to 20 million additional shares. The offered price represents a 13.3 percent premium over Ford's closing price on Friday.
Tracinda said Ford's first-quarter results reinforced that the company is having success in its turnaround efforts, despite the difficult U.S. economy.
"Tracinda believes that Ford management under the leadership of Chief Executive Officer Alan Mulally will continue to show significant improvements in its results going forward," Tracinda said in the statement.
Sales growth boosts Verizon
NEW YORK »
Verizon Communications Inc.
's first-quarter earnings rose 9.8 percent as its wireless division signed up more customers than rival carriers, the company said yesterday.
The results matched analysts' expectations.
The country's second-largest telecommunications company earned $1.64 billion, or 57 cents per share, in the quarter that ended March 31, compared with $1.5 billion, or 51 cents per share, a year ago.
Revenue rose 5.5 percent to $23.8 billion from $22.6 billion.
WORLD
Matsushita profit surges
TOKYO » Japanese electronics maker Matsushita's profit more than doubled in the January-March quarter, buoyed by strong sales of cell phones, flat-panel TVs and DVD players, the company said today.
Matsushita Electric Industrial Co., the maker of the Panasonic brand, said it earned 61.6 billion yen ($589.47 million) from 23.4 billion yen the same period the previous year. Quarterly sales dipped 4 percent to 2.199 trillion yen ($21.04 billion) from 2.282 trillion a year earlier, the company said.
The drop was largely due to an exclusion in group sales of revenue from Victor Company of Japan, whose status changed from subsidiary to affiliate last year, Matsushita spokesman Akira Kadota said.
---
BUSINESS PULSE