---
FAST FACTS HAWAII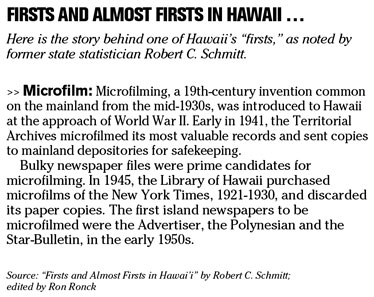 ---
NATION
E-proxy option dampens voting
When the Securities and Exchange Commission decided to allow companies to collect shareholder votes online, its goal was to help cut printing costs. But something else fell, too: the already lethargic voter participation of individual investors.
Some 80 companies that have switched to the electronic model, dubbed e-proxy, have held annual meetings since July, when the rule was adopted, through February.
On average, just 4.6 percent of individual shareholders voted on company matters using e-proxy, a sharp decline from the 19.2 percent who voted in the year-earlier period, when the companies sent out traditional paper ballots, according to Broadridge Financial Solutions Inc., which processes proxy votes.
A variety of reasons could account for the decline in voter participation. It could be a temporary phenomenon as shareholders make the adjustment. Several companies say investors were confused by the mailed notice explaining the electronic procedures. Other companies say older people and those living in remote areas are less likely to go online and prefer to receive the documents in the mail.
Business students exalt ethics
Today's crop of future business leaders want to steer clear of future meltdowns like Enron Corp.'s.
While students pursuing a master of business administration degree voted an excellent work force and strong customer service the two most vital components of a well-run company, 78 percent also consider strong ethics and values integral to company performance, said a recent survey of MBA candidates by the Aspen Institute Business and Society Program.
But only 50 percent of the MBA candidates surveyed thought recruiters placed a strong emphasis on personal integrity, and only 43 percent felt their MBA courses were sufficiently readying them for values conflicts later in their careers.
"Students in 2007 are really hoping to have work that allows them to make a positive contribution, but they don't," said Nancy McGaw, deputy director of the Aspen Institute. "They don't see that they can connect their aspirations with their career choices."
The online survey of 1,943 MBA students from 15 business schools took place in fall 2007.
BPA-tinged products shunned
Wal-Mart
has called it quits on plastic baby bottles made with BPA, or bisphenol A.
Nalgene Outdoor Products
said it would stop using the chemical in its popular clear plastic bottles. Toys 'R' Us is nixing BPA-tinged products.
BPA is a man-made plastic found in many household items -- including reusable water bottles, baby bottles and epoxy resins lining cans of food and soft drinks -- and can leak into food and drinks in those containers.
A recent study by the National Institutes of Health suggested a link between BPA and higher rates of cancer, reproductive system abnormalities and nutritional and developmental problems among children who were exposed to BPA while their mothers were pregnant. It may soon be banned in Canada and is also subject to increased regulatory scrutiny in the U.S.
A few suggestions from the May 2008 issue of Consumer Reports magazine on how to avoid BPA from leaching into your drinkables:
» Hard, transparent plastic containers marked with the recycling codes "7" or "PC" usually contain materials made with BPA.
» Use bottles marked with recycling codes "1," "2," or "5" instead. Those numbers stand for polyethylene, high-density polyethylene and polypropylene, all BPA-free hard plastics.
» Glass baby bottles or those made of polyethylene are safest, said Consumer Reports.
» Try a stainless steel or aluminum reusable water bottle.
Business travelers trade down
Domestic airfare and hotel costs were mostly flat in 2007, while the price of international airfare leaped for business travelers.
The average price of domestic airfare in 2007 was $230, down from $231 in 2006, but still higher than the average of $216 paid in 2005, according to the American Express Business Travel Monitor. U.S. travelers managed to pay less this year by booking way in advance and taking advantage of more cheap seats offered by legacy carriers as well as low-fare airlines.
But the average international fare has surged to $1,836 from $1,707 in 2006, and companies are increasingly booking international business travel one grade lower, such as moving from business class to premium economy, said Mitch Cwanger, who leads air travel advisory services for American Express Business Travel.
Mid-price and budget hotels, meanwhile, saw rates flatten while deluxe hotels enjoyed double-digit rate increases. In order to compete, non-luxury hotels beefed up amenities such as free Internet and improved room comforts while keeping room rates low.
"In the past a lower tier wouldn't even be considered in a corporate travel program," said Cwanger. "Now they have upgraded their properties and can compete better."
---
BUSINESS PULSE