UH sites crumble as funds fall short
A study of aging University of Hawaii buildings estimates the repair bill is $351.5M
STORY SUMMARY »
|
READ THE FULL STORY
A first-ever survey of 890 buildings on 10 University of Hawaii and community college campuses suggests the state needs to spend a minimum of $60 million a year to keep an estimated $351.5 million backlog of repair projects from growing.
Much more money — $83 million or more each year — is needed to get the buildings back in shape.
The new building survey is the best estimate yet of the size of the problem taxpayers, UH administrators and state lawmakers face in fixing aging public higher education buildings and infrastructure.
Former UH football coach June Jones suggested that one of the reasons he left was because of decrepit athletic facilities. But the problems, especially at the flagship UH-Manoa campus, extend far beyond the lower campus.
The new report estimates UH-Manoa needs about $242.8 million in repairs.
This year's budget allocates about $60 million for UH repair and maintenance, said Sen. Shan Tsutsui, vice chairman of the Senate Ways and Means Committee.
"I would have wanted to do a whole lot more," said Tsutsui (D, Wailuku-Paia).
UH had requested $97.8 million, said Carolyn Tanaka, associate vice president for external affairs.
---
FULL STORY »
Cliff Fujimoto doesn't need a building survey to tell him that 44-year-old Kuykendall Hall on the University of Hawaii-Manoa campus needs major fixes.
BY THE NUMBERS
13M
Square footage of all buildings on all 10 UH campuses.
$4.2B
The cost of replacing all 890 UH buildings on all 10 campuses.
$351.5M
Repair and maintenance backlog.
$60M
Average amount needed each year to keep UH buildings in current state.
$83M
Amount that needs to be spent to reduce the backlog by 50 percent over six years.
$107M
Amount that needs to be spent each year to eliminate the backlog in six years.
The beige paint on the outside of the building is peeling. In February, the ceiling in his boss' office caved in and had to be replaced.
The air-conditioning system is out-of-date. When students complained about a strange smell in the building, Fujimoto said engineers discovered the system recirculates air in the classrooms, rather than bringing fresh air in.
"It was designed to operate with the windows open," said Fujimoto, the manager of the Center for Instructional Support at UH-Manoa.
The paint, interior renovations, air conditioning, plumbing and fire protection system are among an estimated backlog of $7 million of needed repairs and maintenance recently identified for Kuykendall Hall in a new survey of all 890 buildings on all 10 UH campuses.
The survey, which took six months to complete under a $186,000 consultant contract, identified a $351.5 million backlog in repairs and maintenance to buildings and infrastructure, said Brian Minaai, the UH associate vice president for capital improvement.
The report from the Pacific Partners Consulting Group suggests UH needs to spend an average of about $60 million a year just to keep the campuses in their current condition and prevent the backlog from growing.
Kuykendall, for example, will need an additional $4.4 million for repairs over the next 10 years.
The nearby Hawaii Institute of Geophysics, which houses research facilities, requires an estimated $28.7 million in repairs and maintenance over the next 10 years.
Cost breakdown
Repair and maintenance backlog by campus:

UH-Manoa: $242.8 million
UH-Hilo: $40.5 million
Honolulu Community College: $18.1 million
Leeward Community College: $16.3 million
Kapiolani Community College: $14.5 million
Maui Community College: $7.4 million
Kauai Community College: $6.8 million
Windward Community College: $2.7 million
Hawaii Community College: $2.5 million
UH-West Oahu: $0

Total: $351.5 million
The air-conditioning system in the building leaks and the ventilation system either doesn't work or is inadequate, said Dave Harris, chief electrical engineer at the Engineering Support Facility for the School of Ocean and Earth Science and Technology.
The machine shop, which can create devices that can go to the bottom of the ocean, is cooled by a rusty air-conditioning system that leaks.
Precision tools in a cabinet are protected from the leaky system above by two buckets and a jury-rigged rain gutter.
Harris pointed to a recently repaired ventilation system on the other side of the shop. The only reason it works, he said, was "a lucky fire," which forced the university to fix it.
Minaai said now that the university has a better idea of what needs to be fixed, all of the campuses are working on a six-year plan to address the backlog of deferred maintenance.
Key lawmakers support the concept.
"To me there's no question we should agree on a multiyear plan and do it," said Senate Education Chairman Norman Sakamoto, who added that the public school system faces the same problems.
Sakamoto, a contractor, said the construction spending would be an economic stimulus for local businesses.
UH President David McClain said the university's priority for the next two-year budget will be repair and maintenance.
"We need to, as much as possible, take a hiatus (on new building construction) for a couple of years to make sure our buildings are in good shape," McClain said at the March Board of Regents meeting.
But McClain said the university may still ask for money for new buildings already approved by the regents and the Legislature.
Sen. Shan Tsutsui, vice chairman of the Ways and Means Committee, said lawmakers also approved a new classroom building at UH-Manoa, which will be used by classes that are displaced as buildings are renovated.
But he said, new construction will be re-evaluated in light of how much money is needed to fix existing buildings.
"We've got to choose," Tsutsui said.
Hawaii Institute of Geophysics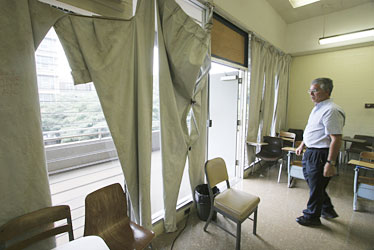 Kuykendall Hall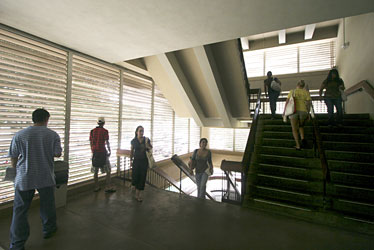 Pacific Ocean Science & Technology