Victim dumped on corner
A man with gunshot and stab wounds is discovered in McCully
Some McCully residents remained uneasy yesterday after a 24-year-old man, who had been shot and stabbed multiple times, was dumped Thursday night on a street corner in their neighborhood and apparently left for dead.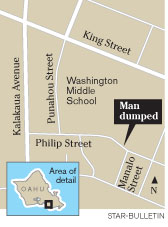 "It makes me nervous," said Hulali Vares, who walked past the spot at Waiola and Manalo streets across the street from Washington Middle School. "I'm very concerned because my son goes to the school." She was grateful school was not in session yesterday.
Police did not have a description of the vehicle from which the man was dumped at about 11:05 p.m. Thursday, said Honolulu Police Department spokeswoman Michelle Yu.
Emergency Services Department spokesman Bryan Cheplic said the man was taken in critical condition to the Queen's Medical Center.
Police did not have any updated information on the man's condition last night.
Nor was any information available on a suspect or suspects yesterday, according to Yu. The scene is also across Waiola Street from the Boys and Girls Club.
Police have opened a second-degree attempted murder case.
One elderly woman who was asleep in a house just a few yards from where the man lay awoke after hearing the commotion from police and an ambulance.
She thought the person was a car accident victim.
"I was praying he was OK because I thought he was hit" by a car, she said.
After learning what had happened, the woman, who asked not to be named, was shaken.
"Now every time I'm looking over my shoulder," she said.
Neighbors said they did not hear any gunshots.
"If I heard anything, I would have gotten up," said Robert Hernandez, 48, who lives in a three-story walk-up with a view of the scene. "I just worry because I got kids and this is close to the school. If there were any gunshots, guarantee I would have heard them."
But the incident did not frighten others.
"It's not good, but we don't feel personally threatened by it," said one Manalo Street resident who declined to give his name. "They're not from around here," he said of the suspect or suspects.