ACQUITTED
Soldier acquitted in killing of Iraqi
A jury rejects charges by the prosecution that the soldier's story had several holes in it
STORY SUMMARY »
|
READ THE FULL STORY
Schofield Barracks soldier Trey Corrales credits his acquittal of premeditated murder to his commander's testimony about Corrales' role in a coordinated operation to root out insurgents in Iraq.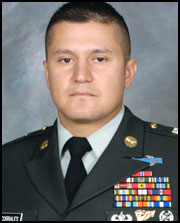 In a Wheeler Army Air Field courtroom last night, a military jury declared Sgt. 1st Class Corrales not guilty of killing the unarmed Iraqi civilian who was a suspected insurgent.
After the verdict, Corrales talked about the importance of the testimony of Lt. Col. Michael Browder, who detailed how drones, helicopters and soldiers were used to track down insurgents about to set off a roadside bomb in June.
Corrales said it feels like a 200-pound weight had been lifted from his shoulders.
"I felt confident. I know this is going to sound weird, but I wasn't surprised," he said. "But it was just a long time coming."
Corrales' wife, Lily, told their daughter Victoria, 7, "Your daddy's free! He's OK," moments after the verdict was read. The sergeant held his 10-year-old son, Trey II, in a long embrace.
GENE PARK AND AP
FULL STORY »
Decorated Schofield Barracks soldier Trey Corrales was acquitted yesterday of charges that he killed an unarmed, suspected Iraqi insurgent in June.
Sgt. 1st Class Corrales faced life in prison without parole after being charged with premeditated murder, obstruction of justice and allegedly soliciting the murder by instructing a subordinate to fire at the Iraqi, tentatively identified by the Army as Salih Khatab Aswad.
After more than seven hours of deliberation, the nine-member jury panel returned with the not-guilty verdict on all charges. Corrales appeared calm, and his family and fellow soldiers immediately hugged each other tight.
"I haven't been nervous this whole time," Corrales said after the verdict. "I still have so much faith and confidence in this Army."
The three-day trial ends what Corrales described as a harrowing period for him and his wife and three children. He said it felt like he had left one battlefield and entered another.
He said his immediate thoughts after the verdict was read went to the 10 soldiers from his platoon who died in a helicopter crash last August. The soldiers were intended to be witnesses in Corrales' trial.
"When this happened, I felt robbed," Corrales said through tears. "I wanted to be with them. But I wanted to be with (my daughter) and my son and my wife. Being a soldier, you're split between two worlds and two loves."
Earlier in the day, Army prosecutor Capt. Laura O'Donnell told the jury not to believe Corrales' account of the shooting, where he denied premeditation, the alleged planting of an AK-47 rifle onto the unarmed man and ordering Pvt. Christopher Shore to shoot the wounded Iraqi.
There were holes in Corrales' account of the June 23 incident, she said, including how the detainee was able to make it to the back yard after the raided home near Kirkuk was declared secure by
Corrales' 25th Infantry Division elite scout platoon.
"That detainee somehow made it past 16 soldiers," she said. "That detainee magically made it to the back yard. That doesn't make sense. What makes sense is the accused pushed him to the back yard."
But defense attorney Frank Spinner called into question the testimony of several witnesses, including Shore's. Shore, convicted of aggravated assault in relation to the shooting, is serving time in the Ford Island brig.
Spinner said Shore's initial statement about the incident was that he was unsure whether he shot the wounded man. He later testified that he had shot to the right of the man, missing him.
"This whole theory ... is threadbare," Spinner said. "The centerpiece of their case wasn't even addressed."
Spinner attributed the shooting to the "fog of war," where the rules of engagement becomes ambiguous according to different situations.
"This was a dynamic environment, an intense mission," Spinner said.
Corrales credited testimony from his battalion commander at the time, Lt. Col. Michael Browder, in selling the case that it was a coordinated effort to root out insurgent movement in the area.
Corrales said he expects criticism from people who are surprised with the verdict, particularly those "who sympathize with the insurgents."
He said Iraqi insurgents have a different value of human life than ordinary citizens do, including those in Iraq.
"The rules here in America, we can't take them to Iraq and apply those same rules to the insurgents on the ground," he said. "If we did, there wouldn't be just 4,000 American soldiers, sailors, Marines and airmen dead right now."
Corrales said he was grateful to get another chance to spend more time with his family, especially since he is expected to deploy back to Iraq this October. He returned to Schofield Barracks last
October from Iraq.