New partner brings the party back to Eastside
NEW OWNERSHIP at Eastside Grill means changes are in store at Puck's Alley. Don't worry,
Robbie Acoba
hasn't gone anywhere. He now runs the bar in partnership with former University of Hawaii quarterback
Michael Carter
, who promoted various events there in recent years.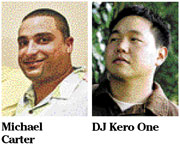 "Friday Night Live" debuts this week as the new flagship party, with live reggae by the Isouljahs. Other new weeklies include "Kanikapila Sundaze" with Sean Na'aua'o from 4 to 7 p.m. and "Whee-Ha Wednesdays" with Kama'ehu from 8 to 11 p.m.
Acoba also plans to re-introduce a college night on Thursdays ...
PEOPLE ARE starting to wonder if the Diamond Head Crater Celebration will even happen in 2008.
I've been asked a couple of times to find out what's going on, so I tried to contact promoter Ron Gibson for some answers. He didn't respond to my request for comment, opting instead to issue a statement through a representative.
According to his rep, there is "no date to announce at this point," although "plans are moving ahead" to hold the concert sometime this year. Not the response I was hoping for, so we'll just have to wait and see if it actually happens ...
AFTER DOMINATING the Chinatown scene in recent months, DJ Eskae is expanding his empire by reaching out to the Aloha Shirt Army.
Like a lot of others, Eskae (real name Steven Kanemoto) holds down a full-time job during the week. While he enjoys wilding out on the decks late at night, he was also interested in providing an option for friends with early bedtimes.
So he's partnered with Ad2Honolulu to host "5 to 9 at thirtynine," a networking event for young professionals. Doors open at 5 p.m. this and every last Friday of the month, with no cover charge and a revamped pupu menu; award-winning mixologist Christian Self also will be on hand to pour specialty cocktails ...
NEW ZEALAND roots reggae band Katchafire is back in Hawaii this week, en route from a month and a half of touring on the mainland.
The band played the Big Island Saturday, following appearances at Texas' annual South by Southwest Music Festival and the Pure Aloha Festival in Las Vegas. On Sunday, they played at the Paddlers Inn on Molokai.
This weekend, Katchafire headlines "Aloha Bash '08" at Andrews Amphitheatre, with opening sets by Kawao, Rebel Souljahz, Ten Feet and Kaipo, before heading to Kauai on Saturday with Ooklah the Moc. The shows will also feature farewell performances by the Opihi Pickers, who recently announced an extended break.
Doors open at 5:30 p.m. Friday at UH-Manoa. Tickets are $17; $10 students. Call 956-7236 ...
WEEKEND PICKS: After operating for months without a liquor license, the Loft hopes to finally secure one in the coming weeks. Stop by on Friday for the "Last BYOB Party" with DJs Money, Matt Ratt and Davey Shindig before the club closes in May for renovations ... The Livewire crew presents "Solar System" at Xyloh on Friday, with five rooms of house, trance, drum-n-bass, techno, downtempo and more than two dozen local DJs. Cover is $10 for 21-and-over, $15 for unders ... Universoul Clothing presents a special edition of "EMPIRE" at Lotus on Saturday. Six clothing companies will come together for an evening of fashion networking, with DJs Technique, Sonik, Revise and D-Box spinning until 4 a.m. ...
COMING UP: Gorilla Productions hosts another all-ages battle of the bands at Anna Bannana's on Sunday. Doors open at 4 p.m.; Mojo Remedy, Stratus Blue, the Substitoots, Eddie Ate Dynamite and Busekrus are among the bands signed up to compete ... Cafe Che Pasta is going after the pau hana crowd with "Taco Tuesdays," starting next week. Get there between 4 and 7 p.m. for $2 tacos and $3 margaritas and Coronas ... GenuineHI hosts San Francisco-based DJ Kero One at thirtyninehotel on May 1. With international tour experience, this guy has built a solid following with his blend of soul, breakbeat and hip-hop beats. Doors open at 9 p.m. ...