PICTURE OF SUCCESS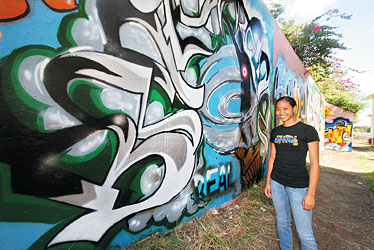 The right balance
Kalani track standout Yasmina Taketa is also a civic-minded artist
This is one graffiti artist who doesn't have to outrun the law. But if she had to, she could.
One of 15 sanctioned taggers, Kalani High School track star Yasmina Taketa recently helped transform one of her school's walls into a colorful mosaic of anti-smoking images.
Spearheaded by Kalani art instructor John Nippolt, the project, entitled "Smoking the Wall," was created to bring awareness to the dangers of tobacco use and the industry's propensity of marketing its products to teenagers.
"Yasmina personifies a student involved in community service," Nippolt said. "She's an extraordinary artist who volunteered to be the spokesperson for the project."
Taketa's art is eye-catching, but recently it's been her track and field accomplishments that have spectators turning their heads.
When not drawing or painting, Taketa enjoys running fast and jumping far, much to the chagrin of opposing tracksters.
The senior has posted the state's top time in the 100 and top distance in the long jump thus far in the track and field season.
Taketa ran the 100 in a blistering 12.1 seconds during an OIA preseason meet March 6. The hand-timed result was a personal best that caught many people, including herself, by surprise.
"When I crossed the finish line and asked for my time, I thought they told me 12.6, so I was really mad about that because I thought I ran faster," Taketa said. "But a couple of days later my coaches told me that I ran a 12.06, and that they rounded it up to a 12.1."
Taketa's recent long jump performance was equally amazing, not necessarily because of her distance, but because of the competition she was stacked up against.
Kalani girls track and field coach Alan Nakasone entered Taketa in the Spring Break Open, an annual track meet hosted by the University of Hawaii featuring female college tracksters. Nakasone was confident that Taketa, the state's reigning girls high school long jump champion, possessed the raw athleticism to compete.
"I felt like everyone there was 3 feet taller than me," Taketa said. "At first I was really intimidated by their size, but then I realized I have nothing to lose and went for it."
Once her nerves settled, Taketa managed to long jump 17 feet, 8 inches, placing her second behind Hawaii senior Annett Wichmann. The distance is the best performance so far this year among Hawaii high school girls.
"I feel she has a good chance to repeat as long jump champion and compete in the 100 and 200," said Nakasone. "When the meet starts, she turns it on."
One potential obstacle for Taketa is her busy schedule. In addition to track and field, Taketa also plays for the prestigious Honolulu Bulls Soccer Club. She was the Falcons' goalkeeper and team captain this past season.
"Ever since I was young I've been involved in so many different activities. Track and field, soccer, martial arts, basketball, street hockey, gymnastics, baseball -- pretty much everything except ballet," said Taketa.
With her artistic and athletic commitments, Taketa sometimes extends herself too far beyond the classroom.
Such was the case recently, when Taketa became academically ineligible and was forced to miss some meets in March and early April. The wake-up call was heard loud and clear, as Taketa managed to improve her grades and currently is in good academic standing.
"Everyone knows she's involved in a lot of things both within the school and athletics and outside the school that may have impacted her situation," said Kalani athletic director Greg Van Cantfort.
Missing the chance to compete forced Taketa to see things a little differently.
"It helped me realize that I have to do a better job of finding time to do my homework," Taketa said.
Despite missing part of the season, Taketa's recent performance at the Honolulu Marathon Invitational last Friday suggests she hasn't missed a step. Taketa placed first in both the 100 (12.46 seconds) and the long jump (17 feet, 3/4 inches).
Now that she's back on track, the pressure she feels as a frontrunner in both events is starting to mount.
"I always tell her not to expect people to play dead," Nakasone said. "The competition is going to go after her."
"Pressure is a good thing for me, because if I'm too confident I tend to relax more and I feel like I'm not working hard enough," said Taketa.
With her hectic schedule, relaxing is something Taketa has admittedly struggled to do. However, she has recently spent more time in front of the canvas honing her skills as an artist.
"Art is therapy," said Taketa. "When I have too much sports, I draw. It balances me out."
"She's an unbelievable artist," said Van Cantfort. "I asked her if she could do a couple of painting projects for me to help improve the look of our athletic facilities."
Taketa has also designed T-shirts for Kalani's track and field, basketball and soccer teams. She plans to pursue art in college by taking graphic design classes.
Her growing interest in art, however, doesn't mean athletics will fall by the wayside.
"Even if I don't get an athletic scholarship, I'm still going to run track, no matter what," she said.
"I'll find a way."