---
Wichmann qualifies for NCAAs in track
Hawaii track and field athlete Annett Wichmann qualified for her third NCAA Outdoor Championship in the heptathlon with 5,521 points yesterday in the Mt. SAC Multi-Events yesterday in California.
Wichmann's fourth-place finish was the highest among all collegiate competitors.
UH's Emily Sheppard finished in 18th place in the California Invitational Multi-Events with personal bests in six of the seven categories.
Ishii, Fujikawa lead Mid-Pacific Open
David Ishii shot a 5-under 67 to take the first-round in the pro-senior flight of the Mid-Pacific Open golf tournament yesterday at Mid-Pacific Country Club.
Tadd Fujikawa leads the professional flight after his 4-under 68.
GOLDEN ANNIVERSARY
FOR MID-PACIFIC OPEN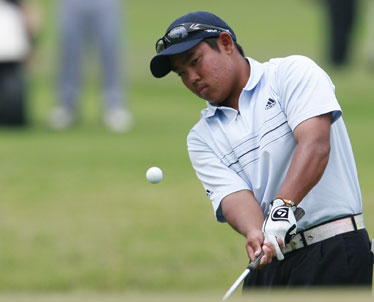 Hawaii Pacific takes 2 from UH-Hilo
Hawaii Pacific swept a softball doubleheader from Hawaii-Hilo yesterday, winning 5-4 and 11-1 to improve to 37-51-1.
Jessica Adolph went 3-for-4 and singled in Ashley Fernandez with the winning run to break a 4-4 tie in the top of the seventh for the Sea Warriors in the opener.
Adolph also earned the pitching victory, in relief of Courtney Kessell.
Adolph and Tajia Acierto homered in the second game to lead the Sea Warriors' offense. Acierto drove in four runs and Krystal Plunkett added three RBIs, and Sherise Musquiz took the pitching win in the five-inning mercy rule game.
The Vulcans dropped to 9-12-1.