Kanoho brothers making rounds in mainland venues
IT'S A pretty big week for the Kanoho brothers, who now live in two different states but share the same love for making original music. Older brother
Kris Kanoho
moved to the mainland a few years ago with his band,
One Groove
, after enjoying some success with their debut album. "Make Your Move" spawned a pair of hits on local radio, but they wanted to press their luck in a bigger market.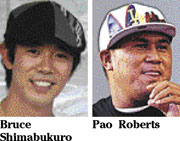 The move paid off, with the now California-based band scoring a slot in the movie "Forgetting Sarah Marshall," opening this weekend. Their song didn't make the soundtrack, but is featured in the movie itself.
Kapono Kanoho, also known as well.being, continues to call Hawaii home while pushing forward with MCs Wade and Temper T as the local hip-hop trio Nomasterbacks. This weekend, the three will hold things down for the 808 with a Hawaii hip-hop showcase in Washington state. They'll perform tomorrow at Whitworth University with local DJs Memoirs, Kavet the Catalyst and Sentr1c ...
I'VE GOT to tip my hat to Tim "Papa T" Troxell, who could have just called it quits with Big Every Time when partner Joe "JD" Daniels recently got in trouble with the law. Instead, he found a new partner in Pao Roberts, and the band picked right back up where it left off with a solid performance at "Jammin' Hawaiians" last weekend ... Local musician Bruce Shimabukuro is going to be a father! I was at Ploi Thai to congratulate promoter Justin Yoshino on his jump into the restaurant business when I ran into Shimabukuro, who confirmed that he was going to have to pull back on performances and travel in the coming months. The changes will hopefully allow him to get back into teaching, he said ... After an extended run at Pipeline Cafe, promoter Rick Rock is no longer part of "Foreplay Fridaze" at the club. With so much competition these days, the crowds simply weren't showing up as they were two or three years ago. The night is now promoted by the club itself, with 102.7 Da Bomb's Kool E expected on the decks in the main room this Friday and DJ Rude Dogg remaining in the first-floor lounge ...
PIPELINE IS also doing its part this weekend to say thank you to all former employees of Aloha Airlines.
Recognizing the fact that most of them haven't found a new job yet, Saturday's "Aloha Airlines Farewell Beer Bust" will feature $1 drinks until 4 a.m. and free entry for anyone with an Aloha ID or pay stub. Otherwise, cover will be $10 for those old enough to drink and $12 for those 18 to 20 years old (still a good deal when you consider those $1 drinks).
Doors open at 10 p.m. Saturday with a casual dress code in effect and live performances by Na Mele Rasta and Jahmaka. Call 479-6004 ...
FRIDAY'S PICKS: Double-O-Spot and HYPE Media team up again to present "Chinatown Getdown," an Earth Day benefit at eight different venues (including one nowhere near Chinatown). Pay one cover and you'll get access to an '80s night at Bar 35, DJ Fred Everything at NextDoor, the Spacifics at thirtyninehotel, and parties at the Mercury Bar, Cafe Che Pasta, the Living Room and the W Honolulu. Dine at Longhi's, California Beach Rock N Sushi or Auntie Pasto's that night and you'll receive up to four free passes ... DJ FLX is back in town to headline at Lotus Soundbar ... The 808 Scene Zine celebrates its second birthday at Don Ho's with live performances by Upstanding Youth, Busekrus, Shawn Davenport, A Sedated Nation and the Cherry Blossom Cabaret. Doors open at 9:30 p.m. ...
SATURDAY'S PICKS: DowneTowne presents a new event for women who love women. "Socialite" will take place every third Saturday at Brew Moon for the 21-and-over crowd. Visit www.myspace.com/downetowne808 ... A Productions presents "Alterna-Fest" at Anna Bannana's, starting at 8 p.m. Stoic F.B., A Hollow Union, Lushion, Phoenix Rose and OK Yeah! Bills are all scheduled to perform ... All ages are invited to the Loft for a soft-core/easy listening show featuring Survive Til Sunrise, Aim for the Heart, Legacy, Amberlin Rose and Pills Like Candy. Fifteen07 Music Studios is responsible for this one; doors open at 6 p.m. ...