---
FAST FACTS HAWAII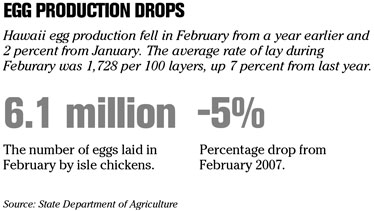 ---
NATION
American Air's parent posts loss
DALLAS » Whipsawed by high fuel costs and bad weather, American Airlines' parent company lost $328 million in the first quarter, and then things really turned ugly.
American, the nation's largest carrier, says it began the new quarter this month by losing tens of millions more when much of its fleet was grounded for safety inspections.
AMR Corp. posted a loss of $1.32 per share compared to a profit of $81 million, or 30 cents per share, in the same period last year. Analysts had expected a loss of $1.34 per share.
Revenue rose 5 percent to $5.7 billion, up from $5.4 billion a year earlier but a bit short of the $5.73 billion forecast by analysts.
IBM's earnings jump 26 percent
BOSTON » Quarterly profits at
IBM Corp.
leaped 26 percent and blew past analysts' forecasts yesterday, with U.S. operations showing surprising strength given the faltering economy. The technology company also increased its earnings forecast for the year.
In the first quarter, Armonk, N.Y.-based IBM earned $2.32 billion, or $1.65 per share, well ahead of its profit of $1.84 billion, or $1.21 per share, in the same period of 2007.
Revenue rose 11 percent to $24.5 billion, better than the $23.7 billion expected by analysts. The consensus earnings forecast had been $1.45 per share.
IBM's sales numbers were boosted by ongoing weakness in the dollar, since deals done in other currencies now translate into more greenbacks. IBM said its revenue would have risen just 4 percent if not for currency fluctuations.
JPMorgan beats expectations
NEW YORK »
JPMorgan Chase & Co.
's profit fell 50 percent in the first quarter after the bank took a provision of $5.1 billion to strengthen its reserves by $2.5 billion and account for $2.6 billion in losses in its loan portfolio.
The bank's results were above analysts' expectations, however, and supported Wall Street's belief that JPMorgan is navigating the credit crisis better than most other banks. The New York-based bank, which recently bought the collapsing investment bank Bear Stearns, yesterday reported earnings of $2.37 billion, or 68 cents per share, and $16.9 billion in net revenue.
The profit was down from $4.79 billion, or $1.34 per share, on $19 billion in revenue in the first quarter of 2007.
Coca-Cola quarterly net climbs
ATLANTA » The
Coca-Cola Co.
's first-quarter profit rose 19 percent due to acquisitions and overseas growth, offsetting unimpressive results in its home North America unit that were affected by fewer people going out to eat because of fuel prices and the slowing U.S. economy.
The results yesterday beat Wall Street expectations. The world's biggest beverage company said its profit was $1.50 billion, or 64 cents a share, in the three-month period ending March 28. That compared to a profit of $1.26 billion, or 54 cents a share, a year earlier. Revenue rose to $7.38 billion from $6.10 billion a year earlier.
Coca-Cola said its revenue growth was helped by an increase in concentrate sales, structural changes primarily related to bottler acquisitions, currency benefits and better pricing and mix.
BRIEF CASE
SCHOOLED:
Student lender Sallie Mae lost $104 million in the first quarter and fell short of Wall Street's expectations amid a severe disruption in the student lending industry. SLM Corp., which made a profit of $116 million a year earlier, has set aside $137 million for losses on student loans.
New hires / Promotions
» Marriott International has promoted Mark Barnes to area director of sales and marketing for Hawaii from director of sales and marketing for the JW Marriott Ihilani Resort & Spa at Ko Olina. He will oversee group sales, e-commerce and westbound travel tour wholesales. He has 22 years of sales and marketing experience.
» Moana Surfrider, A Westin Resort has announced the following new hires:
Pila Sunderland as outlet manager at the Beachhouse. His previous jobs include restaurant director at Cassis by Chef Mavro, and bar manager at Chef Mavro Restaurant.
Chad Yang as assistant outlet manager at the Beachhouse. His previous jobs include general manager of Sam Choy's Diamond Head Restaurant, and management positions at Chef Mavro's, Donato's Restaurant and Paradiso Seafood and Grille.
Board elections
» The American Society for Training and Development Hawaii chapter has announced its board of directors for 2008-2009: Wendy Nakamura, past president; Nelwyn Yee, president; Ken Kiyohara, president elect; Al Nishimoto, treasurer; Dina Tsuda, secretary; Shirley Tsukano, director of communications; Kevin Imai, director of events; Therese Dickerson, director of marketing; Stacy Yoshihara, director of membership; Lee Ann Del Carpio, director of professional development; Darren Matsuda, director of technology; and Cliff Clarke, board advisor.
» The Cancer Research Center of Hawaii has elected the following new board members:
Anton C. Krucky, president, chief executive officer and co-founder of Tissue Genesis.
Mary Worrall, president and founder of Mary Worrall Associates Sotheby's International Realty.
Awards / Certifications
» Coldwell Banker Pacific Properties has designated Fusako Grant as a previews specialist. She has 25 years of experience as a realtor in Hawaii. The previews specialist designation recognizes sales agents who have met a certain criteria of luxury market experience and completed a series of training.
» The Council of Residential Specialists has awarded Kahala Associates realtor associate Shaila Michandani with the certified residential specialist designation. The CRS designation recognizes a sales agent who has demonstrated professional expertise in the field of residential real estate and by completing advanced courses.
» Hawaii Pacific University has announced the following alumni to be honored at its eighth annual Paul C.T. Loo Distinguished Alumni Awards on April 25: Marissa Sandblom, Professional Achievement Award; Andrew Tay, Alumni Service Award; and Nash Subotic, Young Alumni Award.


---
BUSINESS PULSE