---
FAST FACTS HAWAII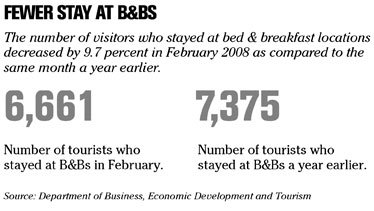 ---
NATION
Intel profit meets forecasts
SAN FRANCISCO »
Intel Corp.
's first-quarter profit matched Wall Street's subdued expectations, a sign the company's core microprocessor business remained healthy amid fears of a broader slowdown in technology spending.
The technology bellwether forecast higher profit margins in the second quarter and signaled that it is thriving while its smaller rival, Advanced Micro Devices Inc., continues to stumble.
Santa Clara-based Intel said yesterday that its net profit for the three months ended March 29 was $1.44 billion, or 25 cents per share. That represents a 12 percent decline from the year-ago period, when Intel earned $1.64 billion or 28 cents per share. But it was in line with estimates.
Intel's sales of $9.67 billion -- a 9 percent improvement over last year and a record for the first quarter -- came in slightly higher than Wall Street's estimate of $9.63 billion.
Washington Mutual posts loss
SEATTLE »
Washington Mutual
, the nation's largest savings and loan, said yesterday it lost more than $1.1 billion in the first quarter as the struggling economy and flagging real estate values pummeled the bank's borrowers.
The Seattle-based thrift lost $1.40 per share, compared with a profit of $784 million, or 86 cents per share, in the first quarter a year earlier.
It was the bank's second consecutive quarterly loss, but Chairman and CEO Kerry Killinger promised shareholders that Washington Mutual will turn around within a year.
Washington Mutual said it needed to set aside $3.5 billion to cover bad loans in its $250 billion portfolio during the first quarter. The bank set aside less than half as much to cover bad loans in the year-ago period.
Schwab posts record profit
SAN FRANCISCO »
Charles Schwab Corp.
's first-quarter profit rose 12 percent to catapult the discount stock brokerage to the most prosperous start in its history, providing a glimmer of good news amid the gloom hanging over the financial sector.
The San Francisco-based company said yesterday that it earned $305 million, or 26 cents per share during the first three months of the year. That compared with net income of $273 million, or 22 cents per share, in last year's first quarter.
Revenue during the period climbed 13 percent to $1.31 billion from $1.15 billion.
J&J profit up 40 percent
TRENTON, N.J. » Health products maker
Johnson & Johnson
reported a 40 percent jump yesterday in its first-quarter profit, mainly due to the weak dollar boosting foreign revenues and a research charge taken a year ago.
The New Brunswick, N.J.-based maker of contraceptives, medical devices, baby care items and prescription drugs reported net income of $3.6 billion, or $1.26 per share, for the first three months of the year, up from $2.57 billion, or 88 cents a share, a year ago.
Revenues rose 7.7 percent to $16.19 billion from $15.04 billion a year earlier, primarily due to higher sales of consumer health care products such as baby and skin care products in the Listerine line.
Analysts were expecting lower earnings of $1.20 a share on revenue of $15.83 billion.
Seagate misses revenue forecast
SAN FRANCISCO » Hard-drive maker
Seagate Technology
's third-quarter profit jumped 62 percent from a year ago, but the company missed revenue forecasts and acknowledged weakness in sales of drives used in notebook computers.
In the quarter ending March 28, Seagate earned $344 million, or 65 cents per share, compared with $212 million, or 37 cents a share, in the same period a year ago. Revenue grew 10 percent to $3.1 billion from $2.8 billion last year.
Excluding one-time items, the company earned $369 million, or 70 cents per share. On that basis, analysts were expecting the company to post a profit of 69 cents per share on revenue of $3.25 billion.
WORLD
MySpace launches in S.Korea
SEOUL » MySpace's chief executive said yesterday the U.S. networking Web site is poised to thrive in the South Korean market because the
News Corp.
subsidiary pays more attention to local culture than its competitors.
Speaking after the launch of MySpace's Korean-language version in Seoul, Chris DeWolfe said he was confident about the site's prospects in a country that has proved difficult for foreign online services such as Google Inc. South Korea, one of the world's most wired and tech savvy nations, is one of the few global markets where Google is not the dominant search engine.
BRIEF CASE
STEELING THEMSELVES:
ArcelorMittal, the world's largest steelmaker, plans to boost prices on some contracted steel shipments in the U.S. by $250 a ton to recoup surging costs for energy and iron ore. U.S. steel prices are climbing even as demand stagnates because higher prices in other regions and a weak dollar are attracting the exports usually destined for North America.
New hires / Promotions
» Group 70 International has promoted
Tom Young
to principal from associate/project manager. He will also serve as principal-in-charge of marketing, responsible for the firm's overall strategic business plan and supervising projects. He has 20 years of architectural experience.
» Ocean Network has hired Mericia Palma as an account executive for its marketing and sales team. She will oversee accounts, new programming and production of television commercials for the network's clients.
» SMG Hawaii has named Neil J. Mullanaphy executive director of sales and marketing for the Hawai'i Convention Center. He has 20 years experience in the meetings industry.
» Laird Christianson Advertising has announced the following promotions:
Dennis Mahaffay to vice president for broadcast. He has 30 years experience in the production and broadcast industry.
Petra Herzog to vice president of account services. She joined the agency in 1999, specializing in resort and residential properties. She has 12 years of advertising experience.
Kathleen Pahinui to vice president of account services. She joined the agency in 2001 and has more than 25 years experience in consumer and business-to-business marketing and brand development.
» WCIT Architecture has hired Edward B. Chargualaf as senior project manager. He will oversee the firm's projects including managing consultants, coordination with various agencies and fulfilling client expectations.
» Citi Smith Barney has promoted Grant Kubota to second vice president of wealth management. He previously served as a CPA at KPMG.
» Starwood Vacation Ownership has named Gerald O'Neil as spa director of Heavenly Spa by Westin at The Westin Ka'anapali Ocean Resort Villas. He is responsible for the development of the new luxury facility's treatment menu, staffing and overall operations for its grand opening in May.
» Kaiser Permanente Hawaii has promoted Suzann Filleul to region nurse executive professional practice and development. She will be responsible for developing skills-based education and training programs, recruitment and workforce planning, and ensuring standards of practice. She joined Kaiser in 2006 as chief nursing officer and assistant hospital administrator with 34 years experience in the health care industry.
» Jeff White, CFP of LPL Financial has hired Danny Alvarez as a wealth advisor. He will assist clients in wealth and asset management and community-based seminars.
» ResortQuest Hawaii has named Lisa Cripe as director of marketing.
» St. Francis Residential Care Community has named Jacob Silva as program director of its new "Stay Healthy at Home" program for seniors. He has 18 years of clinical and management experience. He also continues to serve as an army nurse in the U.S. Army Reserves.
---
BUSINESS PULSE