---
FAST FACTS HAWAII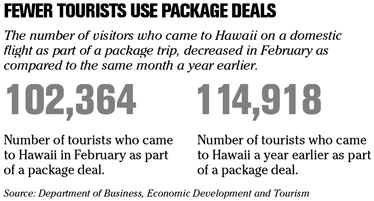 ---
HAWAII
Island Air wins Nebraska bid
GRAND ISLAND, Neb. » The Hall County Airport Authority has approved
Island Air
's bid for flights from Grand Island to Kansas City.
Island Air's bid calls for two flights a day to Kansas City International Airport on a 37-seat aircraft. Great Lakes Airlines, which also bid, had proposed three flights a day on a 19-seater.
The board's resolution will be sent to the mayor and city council. The council must approve the choice before it is forwarded to the U.S. Department of Transportation.
The airline, which last month announced a bid to take over Essential Air Service routes in Missouri, Arkansas and Nebraska, said last week an airport commission recently rejected another Midwest commuter service proposal, for flights servicing Columbia Regional Airport in Missouri.
NATION
Online banking satisfaction up
NEW YORK » Banks are receiving higher marks for at least one thing: their Web sites.
Customer satisfaction with online banking sites has risen significantly over the past five years, according to a survey released today by ForeSee Results.
ForeSee's survey uses the University of Michigan's American Customer Satisfaction Index, and this year, the index registered a score of 82 out of 100 for online banking, up 12 percent, or 9 points, from a score of 73 in 2003.
The reading of 82 was higher than customers gave banks overall -- 78 in 2007 -- suggesting they are more pleased with banks' online operations than with branches and call centers. The score is also strong compared to other arenas: Online retailers, the highest-scoring category measured by the ACSI, recently scored 83.
Tesla sues rival over secrets
SAN FRANCISCO »
Tesla Motors
, the Silicon Valley maker of electric sports cars, filed suit in San Mateo County Superior Court yesterday against a competing company and two of its employees, saying they stole some of Tesla's design ideas and trade secrets.
Tesla, which has generated much interest among fans of cars and technology, recently started shipping a two-seat electric sports car in limited quantities. Last year it hired exotic-car designer Henrik Fisker to do the body design for a four-seat sedan, code-named White Star.
The Tesla lawsuit contends that Fisker fraudulently agreed to take on Tesla's $875,000 design contract to gain access to confidential design information and trade secrets, then founded Fisker Automotive and announced a competing vehicle.
---
BUSINESS PULSE