Patients should push for tort reform
Your editorial
"Legislators should reject taking revenge against doctor" (April 10)
was excellent. It is disturbing that something like this can happen to physician Josh Green.
During this legislative session, a small group of doctors from the Hawaii Medical Association attempted to work with the legislators on medical tort reform. Their effort was rejected without even a public hearing.
So we have learned that our legislators will not listen to doctors about tort reform. Many of them have their own vested interests, but perhaps they will listen to the demands of patients.
Doctors should elicit patients' support and on a sustained, organized basis, talk to them about issue of medical tort reform and why it is so important. Patients can sign a petition circulated by doctors, hospitals and other interested parties, which can then be presented to legislators.
Walter Char
Honolulu
Eye of the Beholder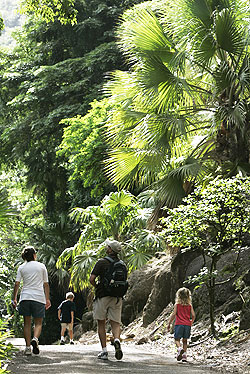 Waimea Valley is beautiful -- and it's getting more so
I am writing because the letter of
March 16 stating "Waimea Valley needs a major facelift"
made me sad. I live in Pupukea, attend Kahuku Junior High School and have visited Waimea Valley about 100 times since I was a baby. The valley is such a beautiful place, a refuge for native and unusual plants, and for families. With Gary Gill in charge of Waimea Valley, the Office of Hawaiian Affairs is doing a great job at bringing a new spirit back to Waimea Valley.
The letter said some very negative things about Waimea, like, "If a garden could be called slum-like, Waimea Valley is it." I think that the writer does not understand the valley. Maybe he thought it would be a modern garden with artificial fountains and trees all trimmed like hedges, with the old shuttles. But Waimea Valley today is a garden that shows people what it was like in the old Hawaiian days, encourages people to walk, especially Americans, and allows me and everyone else to swim safely in a big waterfall.
I went to the valley with my family for a delicious Easter brunch, watched hula, played Hawaiian games, saw a waterfall and enjoyed the gift shop with all the local products. I thought everything was hassle-free and beautiful.
Tate Antolini Newfield
Age 12
Pupukea
Bill should protect victims who fight back
Last year the Senate passed SB1617 providing immunity from civil suits for home occupants against burglars who are injured or killed during a felony burglary. House Judiciary Vice Chairman Blake Oshiro gutted the bill this year. Oshiro's version (HD 1) removes all reference to the death of a burglar, although the Hawaii criminal statutes recognize that a home occupant threatened with lethal force may respond with equal force. His version restricts the immunity to only the homeowner, not the home occupants as proposed by the Hawaii Attorney General's Office for the Senate version. Oshiro's draft requires that the burglar inflict "great bodily injury" or use "a dangerous or deadly weapon" or actually be convicted of a Class A or Class B felony before immunity is conferred. This shows no consideration at all for the victim.
The House Judiciary Committee can still repair the bill in conference committee and pass a bill this year similar to "Castle Doctrine" statutes already enacted by 20 other states.
Maxwell Cooper and Mark Plischke
Legislative co-chairmen
Hawaii Rifle Association
Don't take workers' right to privacy
Workers' rights to a secret ballot are about to be seriously infringed. Agricultural enterprises are the target, but House Bill 2974 will threaten workers' rights to privacy and freedom of association in any and every line of business that is not directly interstate commerce or federal contracting.
It was the bad old days of rotten "pocket boroughs" in England where voting was done in the presence of the local lords and landlords that people emigrated to America to escape. When you can't vote without others knowing how you voted, especially others who have a strong interest in how you vote, and motive and opportunity to make it hot for you, your freedom is at risk. Our legislators' quiet action to take away the secret ballot leaves Hawaii's hardworking individuals wide open to intimidation and retribution.
The secret ballot is a fundamental institution of freedom. National polls show that more than 75 percent of respondents, of both political parties, believe workers' rights to a secret ballot should not be taken away. Please tell your legislator, right away, that you want the governor's veto of HB 2974 to stand.
Protect workers' rights to a secret ballot!
Boyd Ready
Haleiwa
We shouldn't pay Iraqis to police themselves
Imagine your favorite team wining almost every contest. However, an investigation reveals that your team was successful because it paid its opposition to put on a good show but lose the game. Unbelievable? Not really! That's what your government is doing in Iraq. Uncle Sam is using millions of your tax dollars each month to pay Iraqis that would be fighting against U.S. troops to join local militias and patrol neighborhoods for terrorists. Since they so busy looking for themselves who they never seem to find, they are not attacking the U.S. military.
Wonder if we will use that technique here, paying bank robbers, car thieves, home invaders and other criminals to patrol the neighborhood. They'd wear bright conspicuous uniforms so we know where they are and so they won't be taking our stuff.
Too bad we can't figure out a way for those that have profited from the war to pick up the tab for it. They lobbied for it, and they should pay for it. Let's write our congressional representatives and make it happen!
Smoky Guerrero
Mililani
Jobless folks can sleep at Convention Center
One of the economic woes facing Oahu is the simple fact the Convention Center was built in the wrong place.
The politicians decided to build it in a bad neighborhood at an intersection jammed with traffic, a terrible indoor parking plan, no room for expansion and, worst of all, with a dull view that can be found in Pittsburgh or Cleveland.
Now with the fiascoes on Molokai, Turtle Bay, Aloha Airline, gas at $4 on Maui, air fares going up $200, and with the recession changing tourists' plans, a financial tsunami is headed toward the islands.
Unemployed locals can always go sleep in the Convention Center; no convention delegates will be meeting there.
Edward Kelly
Lake Isabella, Calif.