---
FAST FACTS HAWAII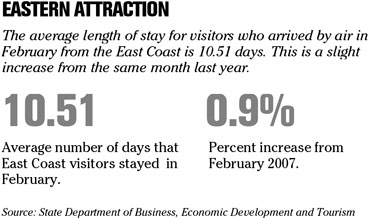 ---
HAWAII
Convention draws 1,800 here
The Hawaii Convention Center's international promotional efforts have helped bring attendees from more than 40 countries to the state for the Association to Advance Collegiate Schools of Business annual conference and meeting.
More than 1,800 management education professionals are expected to spend close to $8.5 million, including 14,000 room nights, during the event, which runs though Wednesday, according to center manager SMG.
The AACSB is a nonprofit group of educational institutions, corporations and other organizations involved with higher education in business administration and management. Organized in 1916, AACSB accredits bachelor's, master's and doctoral degree programs in business administration and accounting.
NATION
Airline merger talk rekindled
ATLANTA » Leaders of
Delta Air Lines Inc.
's pilots union were meeting in special session, the union said yesterday as the company kept trying to determine whether to move forward with a combination with
Northwest Airlines Corp.
Union spokeswoman Kelly Regus said in a memo to rank-and-file Delta pilots that the Master Executive Council meeting was taking place in Atlanta. She did not say how long the meeting would last or what was being discussed.
Northwest pilot union leaders were scheduled to meet tomorrow in Bloomington, Minn., to discuss merger issues.
People familiar with the discussions between Delta and Northwest said earlier this week that Delta is deciding whether to push ahead with a combination with Northwest without a prearranged deal between their pilots -- a move that could change details of the deal.
MGM Mirage chief paid $9.6M
LAS VEGAS » Terry Lanni, the chief executive of casino giant
MGM Mirage Inc.
, received $9.6 million in compensation in 2007, and was so enamored of the company's planned CityCenter complex in Las Vegas, he bought a penthouse condo unit in it for $8.7 million, filings showed yesterday.
The Mandarin Oriental unit was one of three units he bought with two sons in the 6,300-room, $8.1 billion complex, a 50-50 joint venture between MGM Mirage and government-controlled Dubai World set to open in late 2009.
Lanni's compensation consisted of $2 million salary, $6.4 million in non-equity incentive plan compensation and $1.2 million in other compensation, mostly in retirement benefits and personal use of company aircraft, according to a filing with the Securities and Exchange Commission.
Fannie works on mortgage plan
WASHINGTON » Fannie Mae will allow more struggling homeowners to sell their homes for less than they owe on their mortgages in a gambit that could hit the mortgage finance company with upfront losses but stave off a massive hemorrhage from foreclosures.
The program by the largest U.S. financier and guarantor of home mortgages addresses homeowners with "upside-down" loans, who owe more than their homes are worth. There are now an estimated 9 million U.S. homeowners in that predicament, according to Moody's Economy.com.
Encouraged by regulators and politicians intent on keeping more homeowners from defaulting, Fannie Mae and its smaller government-sponsored sibling Freddie Mac have expanded their roles in the stricken housing market.
Sallie drops student loan plan
WASHINGTON » Sallie Mae, the nation's largest student lender, said yesterday it would stop offering lower-cost consolidation loans to college graduates, saying the federally backed business had become unprofitable.
In a letter sent to colleges, Sallie Mae, formally known as SLM Corp., said it would concentrate instead on making new loans to students entering college. The suspension of the company's participation in the federal consolidation loan program took effect yesterday.
The federal consolidation loans accounted for nearly 70 percent of Sallie Mae's portfolio of government-backed student loans last year.
WORLD
Samsung chief mulls resigning
SEOUL » The corruption scandal shaking South Korea's largest conglomerate could lead to a major change in its leadership, Samsung's leader said yesterday, indicating he will consider resigning.
Samsung Group Chairman Lee Kun-hee spoke haltingly with reporters after he emerged from a second round of extensive questioning in a special probe into allegations of bribery, nepotism and a $205 million slush fund and nepotism.
"I will deeply think about reshuffling the corporate management structure and the management lineup, including myself," Lee said. Pressed if that meant he would resign, Lee said he "will think about it."
BRIEF CASE
NOT A PEPPER:
Shareholders in Cadbury Schweppes PLC voted overwhelmingly yesterday in favor of spinning off the candy company's North American beverage business, whose brands include Snapple and Dr Pepper. The business, to be called Dr Pepper Snapple Group Inc., will be listed separately on May 7 on the New York Stock Exchange.
BOARD ELECTIONS
» Hawaii Alpha Delta Kappa has announced its 2008-2010 officers: Jean Kiyabu, state president; Gayle Lum, president-elect; Yvonne Nakamura, recording secretary; Dora Hong, corresponding secretary; Joyce Saiki, treasurer; Linda Victor, historian; Amy Katsumoto, sergeant-at-arms; June Saito, chaplain; Aileen Mirchandani, president of the state council of chapter presidents; and Janet Shimada, immediate past president.
» Hawaii Agriculture Research Center has announced its 2008 board of directors: G. Stephen Holaday, president; E. Alan Kennett, vice president; John Taira, treasurer; and Elizabeth Haws Connally, secretary. Directors are Dean Okimoto, Frank Kiger and Yukio Kitagawa. Chief professional officer Stephanie A. Whalen continues with the title of executive director.
» Aloha Pacific Federal Credit Union has announced its 2008 board of directors: Gary Y. Iwai, chair; Allan T. Fujimoto, second vice chair; and Stanley M. Inamasu, secretary and treasurer. Ann C. Gima and Joseph M. Magaldi Jr. are new board members and will serve one-year terms.
AWARDS/CERTIFICATIONS
» The following have been awarded by the U.S. Small Business Administration:
Hong Kong China Hawaii Chamber of Commerce president Johnson W.K. Choi has been selected as the SBA National Award winner. He was also selected as the Region IX winner in competition with other Minority Small Business Champion candidates in Feb.
Environmental Science International in Kailua has been selected as the 2008 Region IX Prime Contractor of the Year. The award recognizes small businesses that have provided the federal government with outstanding goods and services as prime contractors.
WCIT Architecture has been selected as Oahu's best small business for 2008. The award recognizes the firm's innovative international projects, specializing in luxury resort, resort-residential and spa design and development.
» The Surf Industry Manufacturer's Association has nominated Xcel for 2008 Wetsuit of the Year as part of its 2008 SIMA Image Awards program. The award is given to a wetsuit retailed in 2007 for design, appeal and innovation and will be announced during the SIMA Surf Summit 11 in May. Xcel is nominated for its Infiniti Drylock System, a 100 percent waterproof Drylock zipper as part of the company's X-ZIP 2 entry system.
» The National Association of Realtors and the Honolulu Board of Realtors has awarded realtor associate Kelimia Mednick of Sterman Realty the Accredited Buyer's Representative designation. The award recognizes her educational course work and professionalism as a buyer's representative in Hawaii. She has also received the Graduate Realtors Institute and e-electronic professional designations during her five years as a realtor in Hawaii.
» McDonald's Hawaii has announced the following awards:
Victor Lim has been honored with the 2008 Golden Arch Award, given to 35 out of 5,800 franchises worldwide, with Lim being one of 12 recipients in the U.S. He is the owner and operator of seven McDonald's restaurants in Hawaii, and is currently president of the Golden Arches Merchants Association.
Maxima Abrigo has been honored the Crew Person of the Year Award, recognizing an employee out of 5,000 employees statewide. She is currently floor supervisor of the McDonald's in Wal-Mart Pearl City and has served at McDonald's for nearly 12 years.


---
BUSINESS PULSE