| | |
| --- | --- |
| | Island Mele |
---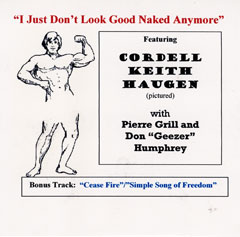 "Trucker's Lament
(I Just Don't Look
Good Naked Anymore)"
Cordell Keith Haugen with Pierre Grill
and Don "Geezer" Humphrey
(Island Viking)
Keith Haugen owns a place in Hawaiian music history for his work as a performer, composer, recording artist and record producer, but he also enjoys acoustic country/folk music. This CD single also contains his anti-war medley, "Cease Fire"/"Simple Song of Freedom."
The "A side" was written by Sheb Wooley of "Purple People Eater" fame. The title is self-explanatory, and the lyrics describe the ravages of age in semi-comic terms.
It's available by email at hakumele@aol.com.
---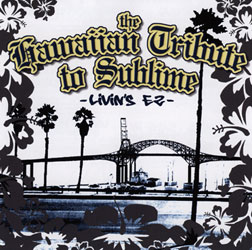 "Livin's EZ: The Hawaiian
Tribute to Sublime"
James "Kimo" West, Greg Leisz, Lee Ann Harris
and Larry Antonio
(CMH)
Steel guitar fans are the most likely audience for this second "tribute album" by producer/arranger James "Kimo" West and steel guitarist Greg Leisz. That's not taking anything away from West's work on an assortment of string instruments and Hawaiian percussion, or the contributions of Lee Ann Harris (percussion) and Larry Antonio (acoustic bass).
However, steel guitar is heard less often then the other instrumens and using it on say, "Garden Grove" and "Get Ready," is a new idea.
West brings the same imagination to the task of reworking Sublime's music that he did with the Eagles tribute album last summer. This one is a greater stretch, but he succeeds once again in taking melodies from an unlikely source and placing them in a Hawaiian context.
As with his Eagles album, this is beautiful background music in which the interplay between the various instruments merits attentive listening.
CMH Records
P.O. Box 39439
Los Angeles, CA 90039
---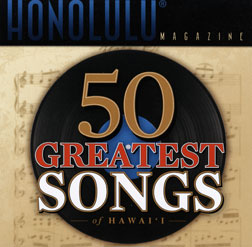 "The 50 Greatest Songs of Hawaii"
Various artists
(The Mountain Apple Company)
"Best of..." lists can be a cash cow for publications. Assemble "experts," have them pick their favorite whatevers, then stand back as newsstand sales spike.
Honolulu magazine has milked that cow a couple times. This anthology contains 11 songs designated as some of the "greatest songs" of Hawaii, although the liner notes don't say where on the list they rank. The other unanswered question is whether these recordings are the best versions, or merely the ones that the label had at hand.
No one has ever done "Ku'u Home O Kahalu'u" and "Nightbird" better than Olomana and Kalapana respectively, but is Don Baduria's instrumental version of "My Little Grass Shack in Kealakekua Hawaii" the best choice to represent a hapa haole classic known for its colorful lyrics? No, it is not!
The Brothers Cazimero, open the album with "Pua Lilia" and close it with "Aloha 'Oe." Puamana, Palani Vaughan and Emma Veary are among the other artists whose recordings represent the " experts'" picks.
John Berger
, who has covered the local entertainment scene since 1972, writes reviews of recordings produced by Hawaii artists. See the Star-Bulletin's Today section on Fridays for the latest reviews. Reach John Berger at
jberger@starbulletin.com
.