Talented student singers step up to the mike
BROWN BAGS to Stardom took place at the Waikiki Shell last weekend, with more than 20 student acts representing about a dozen high schools from around the state.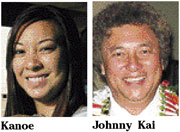 Your faithful columnist joined an all-star lineup of judges, including Brown Bags founder Jeff Coelho, Kristian Lei and Keahiwai's Lei Melket. Hypnotist Greg Gabaylo, MidWeek's Melissa Moniz and Hawaii Music Award winners Jon Almosara, Paul Shimomoto, Rob Yamanoha and Allison Chu were on hand as well.
Farrington High School senior Tiffany Ganotisi and Castle High senior Kekoa Kane took home three awards each, including the trophies for best female and male vocalist, respectively. Ganotisi also took first place for Best Original Song with a radio-ready track and backing from members of First Verse and the Hometown Heroes.
And even though Waianae's Laurissa Asuega and Maui High's TIA didn't win any awards, I was impressed by their vocal talents at such a young age. Waianae's Da Ara Gurlz and Kapolei's Ryde or Die Movement also caught my eye.
Kudos to Brown Bags executive director Johnny Kai for continuing to nurture this event, along with the Music Foundation of Hawaii's annual Hawaii Music Awards and Legacy Awards. Next year, Brown Bags will return to hosting a talent competition at high schools statewide.
Check out my blog for exclusive photos and video from last weekend's performances ...
AFTER MONTHS of speculation, word finally came last week that a new tenant had been selected for the former Ocean Club space at Restaurant Row.
"We're going to open before Halloween," said Gary Derks, who partnered with Randy Brunett to sign the deal. "We're looking to be the key tenant to revitalize the Restaurant Row area."
Derks, who is also co-owner of Maddog Saloon Waikiki with another business partner, said plans call for an upgrade of the existing space while maintaining the vibe of the original Ocean Club.
Rights to the name were included with the lease, although a final decision hasn't been made to actually use it.
"Obviously, everything's going to be redone," he said. "It's going to be an upscale club with live music early in the evening and DJs at night."
Derks added that he has opened 10 bars over the last two decades and isn't worried about the economy or increased competition from Chinatown and Waikiki. We'll see what happens ...
CONCERT NEWS: The 80z All Stars have announced their return to the islands next month. They'll perform at Pearl on May 16, followed by a set at "SKYLiNE" on May 17 ... Local promoter Jason Miller reports the Dropkick Murphys are heading to Honolulu for a show on June 6, followed by former Hawaii residents National Product on June 19. Details are posted at 808shows.com ... BayFest organizers announced the lineup for 2008 earlier this week; Little Big Town and Rodney Atkins kick things off on July 4, followed by 3 Doors Down on July 5. Everclear and Live will close the three-day event on July 6 ...
CONGRATS TO thirtyninehotel bartender Christian Self, who beat out six other local mixologists to win the 2008 edition of the Iron Bartender Invitational on April 1.
Self has competed in this event since it was held at Palomino, so it's no surprise he was able to excel again this year. For the win, he received a trip for two to Las Vegas along with an interisland trip on go! Airlines, which was awarded to all the finalists ...
WEEKEND PICKS: Underground MCs Sharlock Poems and Propaganda (of L.A. Symphony) arrive for three shows this weekend. They'll start at an all-ages, substance-free event at UH-Manoa on Friday, followed by sets at the Loft starting at 10 p.m. On Saturday, they'll headline "The Hub" at rRed Elephant with openers the Perfect Median and DJs Bumble Bee and Memoirs from 8 p.m. to midnight ... Indigo presents a night of Hawaii hip-hop on Saturday with Creed Chameleon, Meiso and the Spacifics. Doors open at 9 p.m. for those 21-and-over with a $7 cover charge in effect ... Former UH Wahine volleyball players will be at Eastside Grill on Saturday to raise money for the Rusty Wahine, an all-star that plans to compete in an upcoming national tournament. Doors open at 5:30 p.m. with live entertainment and a silent auction; Kanoe Kamana'o, Lily Kahumoku, Lauren Duggins-Chun, and Aven Lee will be there to meet and greet ...