---
FAST FACTS HAWAII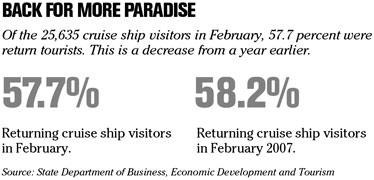 ---
NATION
Frontier Air files for bankruptcy
DENVER »
Frontier Airlines Holdings Inc.
says it has filed for Chapter 11 bankruptcy protection, but plans to continue normal business operations throughout its reorganization.
The low-fare carrier said last night the move came after an unexpected attempt by its principal credit card processor to start withholding significant proceeds from the sale of Frontier tickets, which threatened to hurt Frontier's liquidity.
The company listed both debt and assets of $500 million to $1 billion in its filing in the Southern District of New York.
Frontier Chief Executive Sean Menke says the airline, whose major hub is in Denver, has been affected as other airlines have by rising fuel costs and the credit crisis in financial markets.
30-year mortgage rates stable
WASHINGTON » Rates on 30-year mortgages were unchanged this week.
Freddie Mac, the mortgage company, reported yesterday that 30-year fixed-rate mortgages averaged 5.88 percent this week, unchanged from last week.
The rate was the highest since 30-year rates stood at 6.13 percent the week of March 16. Rates have been below the 6 percent level for four straight weeks. A year ago, rates on 30-year mortgages stood at 6.22 percent
Rates on 15-year, fixed-rate mortgages remained at 5.42 percent, the same as last week. Five-year adjustable-rate mortgages dipped slightly to 5.56 percent, down from 5.59 percent last week. Rates on one-year adjustable-rate mortgages slipped slightly to 5.18 percent, compared to 5.19 percent last week.
DuPont raises earnings outlook
WILMINGTON, Del. »
DuPont Co.
yesterday raised its first-quarter earnings estimate to about $1.29 per share, up from the $1.14 to $1.19 per share it forecast just last month.
The Wilmington-based chemicals maker cited strong growth in its agricultural sector and rapid growth in emerging markets for the improved earnings outlook.
"We had a very, very good first quarter," said DuPont spokesman Anthony Farina.
The new earnings forecast represents more than 20 percent growth in earnings compared to the first quarter of last year. DuPont said growth overseas will more than offset weakness in the U.S. housing and automobile markets, and that the weak dollar also is boosting overseas business.
"Growth in agriculture and emerging markets, along with continued cost productivity gains, are enabling us to overcome challenges in certain U.S. markets and higher cost ingredients," said DuPont chairman and chief executive officer Charles Holliday Jr.
Genentech earnings jump
SAN FRANCISCO » Biotechnology giant
Genentech Inc.
yesterday reported a jump in its first-quarter profit of 12 percent compared to last year, but sales of its top-selling cancer drug disappointed Wall Street analysts.
For the quarter ended March 31, the company earned $790 million, or 74 cents per share, compared with $706 million, or 66 cents a share, a year ago. Revenue was $3.06 billion in the quarter, an increase of 8 percent from a year ago but missing analysts' expectations by about $50 million.
Sales of Genentech's top two cancer drugs, Avastin and Rituxan, both rose 13 percent. But Avastin's numbers disappointed analysts, who were expecting an even greater rise after its surprise February approval by the Food and Drug Administration to treat metastatic breast cancer.
BRIEF CASE
SHARPER BUYOUT? The chairman of Sharper Image Corp. has resigned, a departure triggered by his notice that he wants to buy all or part of the bankrupt specialty retailer, the company said yesterday. Jerry Levin's exit comes just two months after the beleaguered retailer filed for bankruptcy protection as it tries to survive a worsening sales slump.
PROMOTIONS / NEW HIRES
» DK Restaurants has announced that
Gary Manago
will be ending his role as director of operations for DK restaurants and be moving to a consulting role with Sansei Seafood Restaurant & Sushi Bar. His resort and restaurant experience includes director of food and beverage for Hilton Hawaiian Village Beach Resort & Spa, The Pineapple Room by Alan Wong, Mauna Kea Beach Hotel and Hapuna Beach Prince Hotel.
The following have been promoted to partners of the company along with expanded roles:
Director of Finance Sandy Thompson has served in the administration of both Sansei Seafood Restaurants & Sushi Bar and DK Restaurants since 1996.
Executive Chef Ivan Pahk will now oversee the Sansei locations in Kihei and the Kapalua Resort.
Executive Chef Keith Endo as chef partner at the VINO Italian Tapas & Wine Bar in Restaurant Row.
d.k. Steakhouse General Manager Ivy Nagayama as managing partner for the Sansei and d.k. Steakhouse locations in Waikiki.
Sansei General Manager Thomas Alejado as managing partner of the new Sansei location in the Queen's MarketPlace, Waikoloa Beach Resort.
» Hualalai Resort has named William Anderson as executive vice president and chief operating officer. He will oversee all resort operations and work with the management teams of both the Four Seasons Resort Hualalai and Kona Village Resort. He has 25 years experience in the resort development industry.
» Meiji Yasuda Life Insurance Co. has named Tsukasa "Mike" Namiki as president and chief executive officer of Pacific Guardian Life Insurance Co. He replaces Yoji "George" Nakamura, who has accepted a new position with a company subsidiary based in Japan. He has 27 years of management experience with the company.
» MW Group has promoted Greg Wood to general manager from Oahu leasing manager. He will oversee management and leasing of all properties in the company's Oahu portfolio.
» The Oahu Visitors Bureau has hired Toshiyuki Saegusa as director of sales and marketing, Asia. He has 15 years of Asia tourism sales and marketing experience.
» Central Pacific Homeloans has announced the following new hires:
David Quandt as executive vice president. He has 12 years of mortgage banking experience.
Jon Whittington as executive vice presidentretail division manager. He has 15 years of mortgage banking experience.
» Peter Vincent Architects has announced the following promotions to associate:
Sherri Thom Tsang also serves as the firm's design technology manager.
Brad Ladwig is the current project designer for a new 26,000 square foot "carbon neutral" Kahala Estate.


---
BUSINESS PULSE