---
FAST FACTS HAWAII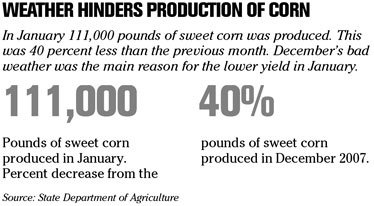 ---
HAWAII
Hoku orders plant expansion
Hoku Scientific Inc.
has told the builder of its planned Idaho polysilicon plant to expand the project from a capacity of 2,500 metric tons a year to 3,500.
The Kapolei-based alternative energy provider said yesterday it has amended the contract with engineering and construction management company Stone & Webster Inc. and construction firm JH Kelly LLC that establishes a target cost of $390 million, including $145 million for building labor and materials.
"The schedule targets are in line with our plan to commence polysilicon production in the first half of calendar year 2009 with a ramp-up to full production capacity of 3,500 metric tons per year in the first half of calendar year 2010," Dustin Shindo, chairman, president and chief executive officer, said in a statement.
Hawaiian, Bankoh in Visa venture
Hawaiian Airlines
is teaming up with
Bank of Hawaii
to launch a Hawaiian Airlines Visa Platinum credit card.
The card, which will debut on April 21, will give customers of both Hawaiian and Bank of Hawaii a way to earn frequent-flyer mileage award benefits through the airline's HawaiianMiles program.
With the new credit card, customers will earn one HawaiianMile for every $1 spent in purchases.
NATION
Boeing delays 787 yet again
CHICAGO »
Boeing Co.
pushed back its oft-delayed 787 jetliner by another six months yesterday, postponing the jet's debut in commercial service until the third quarter of 2009, further jolting the company's credibility and likely costing it billions of dollars in additional costs and penalties.
The latest delays -- the third revision to its delivery schedule and fourth switch in the plans for first test flight -- underscore the problems Boeing is having keeping to a schedule while leaning heavily for the first time on outside contractors to do most of the manufacturing work.
The aircraft touted for its potential to be more fuel-efficient than other large jets is now more than a year behind the original schedule.
The company had initially planned to deliver the first plane to Japan's All Nippon Airways this May -- now rescheduled to early 2009.
Circuit City posts suprise profit
RICHMOND, Va. » Struggling electronics retailer
Circuit City Stores Inc.
said yesterday it swung to a fiscal fourth-quarter profit, as cost cutting offset lower sales for a period that included the bulk of the crucial holiday-shopping season.
Analysts had been expecting a loss for the December-February period on higher revenue for the company which hadn't seen a quarterly profit since the second quarter of 2007.
The nation's second biggest electronics retailer said it earned $4.85 million, or 3 cents per share, in the three months ended Feb. 29 versus a loss of $4.25 million, or 3 cents per share, a year earlier. Analysts predicted a loss of 7 cents per share.
WORLD
China currency breaks key level
SHANGHAI » China's currency nudged past 7.0 yuan to the U.S. dollar today , a milestone bound to please Beijing's trading partners and dismay exporters struggling to remain competitive in overseas markets.
The official Xinhua News Agency reported that the yuan was trading at 6.9920 to US$1 -- the first time it has ventured below the 7 yuan mark since the government loosened the unit's peg to the dollar in 2005. The yuan has gained about 18 percent in value since then.
That has made Chinese-made products more expensive overseas. Beijing limits the yuan to a narrow trading band, contending that restrictions are needed to protect China's developing financial industries. The United States wants the yuan to appreciate faster.
DIALING IN: Former AT&T chief executive David Dorman will become Motorola Inc.'s chairman next month as the struggling cell phone maker tries to fix its slumping fortunes and split itself into two companies. Dorman, 54, will be in charge of the board but have no role in the day-to-day business of the company.
PROMOTIONS / NEW HIRES
» Battleship Missouri Memorial has promoted
Dan Parsons
to education director from tour guide. He will be responsible for developing, planning and implementing the memorial's education department programs, the expansion of the overnight encampment program and the "Mighty Mo Campus" virtual classroom. He is a retired U.S. Navy senior chef with 22 years service .
» Tesoro Corp. has named Al Anderson manager of the Kapolei refinery. He replaces Frank Clouse, who has accepted a new position in leading the company's Refining Training Excellence Program. Anderson has 20 years of refinery industry experience.
» ResortQuest Hawaii has promoted Eric Napoleon to general manager of ResortQuest at Poipu Kai from director of rooms and assistant general manager at ResortQuest Kauai Beach at Makaiwa.
» Coldwell Banker Pacific Properties has named realtor associate Craig Galvin as vice president and assistant area office leader for the company's King Street office. His 20 years of sales and real estate experience include serving as a licensed stock broker in Canada.
» HPM Building Supply has hired Roxanne Fo to its Oahu sales team. She will serve as an outside sales representative for lumber and building materials for Oahu, Maui and Kauai.
» Alexander & Baldwin has hired Michael Ito as manager of corporate planning. He will be responsible for developing annual operating plans, periodic forecasts, capital plans and conducting special studies in support of corporate development.
» MontPac Outsourcing has hired Cathy Yoshida as vice president of client services. Her previous jobs include senior manager at Ernst & Young in the assurance and advisory business services practice, and in the firm's Silicon Valley office.
» CB Richard Ellis has announced the following new hires to its Big Island service team:
Carol VanCamp as a brokerage services associate at the Hilo office. She served as general manager for General Growth Properties' Prince Kuhio Plaza Shopping Center for 12 years.
Michael Oh as general manager of The Shops at Mauna Lani. His experience includes hospitality management with The Four Seasons Hotel San Francisco, and the Renaissance Hotels and Resorts in San Francisco and Indian Wells, Calif., and the residential real estate industry in Berkeley, Calif.
» Aloha Pacific Federal Credit Union has announced the following promotions and new hire:
Jason Fujioka to assistant dealer finance manager. He joined the credit union in 2006 and has 12 years experience in credit unions.
Shanese Kaneshiro to Waimalu branch supervisor from senior branch sales associate. She joined the credit union in 2001.
Chris Pagoyo as Waikele branch supervisor. He has six years experience in the financial institution industry.


---
BUSINESS PULSE