Visiting professor will unwrap mysteries surrounding mummies
Ancient Egyptians mummified more than their brethren. Dogs, birds and crocodiles also fill many tombs, and Salima Ikram, a professor at the American University in Cairo, is perhaps the foremost expert on the topic.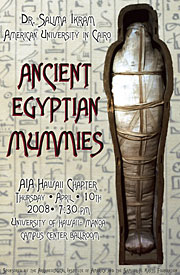 MUMMY TALK
Lecture by Salima Ikram, professor at the American University in Cairo and a renowned expert on mummies

When: 7:30 p.m. Thursday

Where: University of Hawaii at Manoa Campus Center Ballroom

Presented by: Archeological Institute of America Hawaii Society

Cost: Free

More information: www.salimaikram.com
She'll be in Honolulu this week sharing her knowledge about mummies of all kinds as part of a national lecture series. She follows in the footsteps of famed Egyptologist Zahi Hawass, who attracted a crowd of more than 700 for his address at the University of Hawaii at Manoa last summer. Initially, Ikram was not scheduled to stop here, but UH-Manoa scholars worked to ensure that Oahu residents would get an opportunity to hear her speak.
"We wanted her because she is in a field dealing with mummies that is particularly fascinating to scholars and the general public," said Robert Littman, president of the Archeological Institute of America Hawaii Society and a professor of classics at UH-Manoa. "Mummies have fascinated people for millennia, because they were connected with the Egyptian notion of immortality."
Ikram agreed. "They provide an intimate connection between the past and the present," she said in an e-mail. "They also appeal to our ideas of mystery and secret science, as well as our more ghoulish side."
Her lecture likely will focus on how and why the Egyptians mummified their dead, along with an exploration of the use and abuse of mummies in modern times. Beginning in the 12th century, mummies were ground up and used as medicine. By the 19th century, countries such as the United States purchased mummies by the ton and used them for fuel -- particularly effective because of the resin they contained. That practice stopped in the early 20th century, and eventually gave way to detailed studies of ancient lifestyles and diseases through the least invasive means possible: CAT scans.
According to Littman, who has worked with Ikram in Egypt, Ikram's fascinating history and engaging personality allow her to communicate easily with both experts and interested novices, and place her in high demand for documentaries produced by National Geographic and the Discovery Channel.
Following her birth in Pakistan, Ikram traveled to America at the age of 9. On the way, the boat stopped in Egypt, and her parents took her to see the pyramids. Her instant love for the ancient culture altered the course of her life.
This will be Ikram's only public appearance in Honolulu.