| | |
| --- | --- |
| | Wood Craft |
---
Hawaii's golden music gleams in Symphony pops concert
Hula dancer
Aulii Graf
loves her poi and, knowing I am a poi eater, discussed her favorite sticky food with me at a pre-Symphony pops concert dinner with
Jackie Smythe
and her daughter,
Halsey,
at Macaroni Grill Saturday.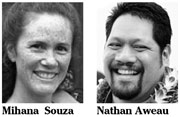 I asked Aulii whether she remembered the "Poi Song," with the lyrics, "Poi my boy will make a man of you," which I hadn't heard in more than 25 years. She did. And lo and behold, in the concert
Aaron Mahi
sang it, backyard party-style, backed by guitarist-singers
George Kuo
and
Martin Pahinui,
steel guitarist
Bobby Ingano
, bassist
Steve Jones
and drummer
Sonny Froman
. It was a highlight of the excellent "Golden Age of Hawaii" concert with
Matt Catingub
and Mahi as conductors. There were more outstanding numbers by leading Hawaiian singers, the Kamehameha Alumni Glee Club and exceptional Halekulani hula dancer
Kanoe Miller
.
Marlene Sai
was in fine voice singing her favorites, including "I Love You" and "This Is Hawaii"/"Hawaii Aloha."
Mihana Souza's
"Princess Pupule" in Pupule's costume was a knockout. She also chanted and sang her family song "Puamana."
Nathan Aweau
sang "I'll Remember You," remembering
Don Ho
, for whom he played bass 16 years. He sang "Over the Rainbow" with Mihana and Matt in remembrance of
Brother IZ
. Pahinui sang "Pua Lilia."
Martin Denny
and
Jack Lord
were recalled as the orchestra, sounding great all night, played "Quiet Village," with Matt on piano, and the "Hawaii Five- O" theme. It was a swell Hawaiian, hapa-haole show ...
De Lima, Elliman top Damien's luau show
Damien grad
Frank De Lima
and
Yvonne Elliman
will headline Damien's luau Sunday, running from noon to 4 p.m. at Blaisdell Exhibition Hall. Tickets are $40 for adults and $20 for children. It's a benefit for the tuition assistance program that aids Damien boys who come from modest families. This year, Frank marks the 41st anniversary of his graduation. Yvonne is a Roosevelt High grad ... Neiman Marcus and the Contemporary Museum will present the ConTempo black-tie gala April 19 to benefit the museum. A big part of ConTempo is the art sale, starting tomorrow. The art is displayed on Neiman's first floor tomorrow through April 19. Call 237-5210 for more info on the gala or art sale ...
...


Ben Wood
, who sold the Star-Bulletin in the streets of downtown Honolulu during World War II, writes of people, places and things in our Hawaii. E-mail him at
bwood@starbulletin.com