---
FAST FACTS HAWAII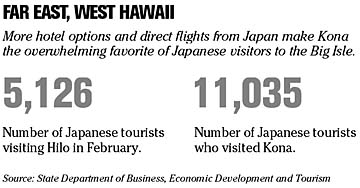 ---
HAWAII
Hawaiian's jets less full in March Hawaiian Airlines said yesterday it filled a lower percentage of its seats in March after increasing its seating capacity 2.1 percent.
The figures don't include the additional flights that Hawaiian added earlier this month to aid stranded passengers in the wake of Aloha Airlines' March 31 shutdown of passenger operations.
The carrier's percentage of seats filled, or load factor, was 87.7 percent, down 3.3 percentage points from 91 percent in March 2007. The number of passengers traveling systemwide slipped 0.2 percent to 608,828 from 609,812.
Hawaiian's available seat miles, or its capacity measured by one seat transported one mile -- rose to 774.6 million from 758.4 million.
NATION
UPS cuts quarterly profit outlook ATLANTA » United Parcel Service Inc., the world's largest shipping carrier, cut its first-quarter profit guidance yesterday, citing lower volume and higher fuel costs.
The company said it now expects earnings per share of 86 cents or 87 cents. Previously, the company said it expected first quarter profit between 94 cents and 98 cents per share. Analysts were expecting earnings of 93 cents per share.
The company said lower volume trends from February continued through March, making it impossible to meet its prior guidance.
Atlanta-based UPS said a shift away from premium products and higher fuel costs also contributed to the guidance cut.
Bill would make hybrids noisier
BALTIMORE » A bill intended to protect blind people and other pedestrians from the dangers posed by quiet cars will be introduced today in Congress.
The measure would require the Transportation Department to establish safety standards for hybrids and other vehicles that make little discernible noise, including an audible means for alerting people that cars are nearby.
"The beneficial trend toward more environmentally friendly vehicles has had the unintended effect of placing the blind and other pedestrians in danger," said Rep. Edolphus Towns, D-N.Y., who's sponsoring the bill with Rep. Cliff Stearns, R-Fla.
The bill would require the Transportation Department to conduct a two-year study before issuing safety standards. Automakers would than have two years to comply.
WaMu will post larger loss
SEATTLE »
Washington Mutual Inc.
, hit hard by rising delinquencies and defaults on mortgages, said today it will receive $7 billion in new capital from an investment group led by private equity firm
TPG Inc.
but will post a wider-than-expected loss for the first quarter.
The Seattle-based thrift said it will lose $1.1 billion during the first quarter and take a provision for loan losses of $3.5 billion -- $1.5 billion more than previously expected. Wall Street had forecast a loss of $344.3 million.
Separately, the country's largest savings and loan said it will get out of the wholesale lending business, close all remaining standalone home loan centers and lay off 3,000 workers.
Washington Mutual will sell equity securities to an investment fund managed by TPG Capital and to other investors in order to raise the funds.
WORLD
New BOJ chief OK'd, deputy not TOKYO » Japan's opposition-controlled upper house of parliament endorsed the Bank of Japan's acting chief, Masaaki Shirakawa, as its governor today , ending a power vacuum at the central bank's helm by approving the government's third candidate for the job.
However, the chamber rejected a former Finance Ministry bureaucrat as one of the central bank's deputy governors, prolonging a dispute that has turned into a major embarrassment for the scandal-battered administration of Prime Minister Yasuo Fukuda.
A stalemate over who should head the Bank of Japan had festered for weeks. Opposition lawmakers said two previous nominees were too politically connected. The five-year term of former Bank of Japan chief Toshihiko Fukui expired March 19.
BRIEF CASE
FEWER JETS:
Airbus SAS, the world's largest commercial planemaker, forecasts new orders will fall to 750 planes in 2008, the lowest in four years, because of tighter credit and higher fuel costs. Orders will probably slow from a record 1,341 planes last year, Chief Operating Officer John Leahy said.
---
BUSINESS PULSE