Condo prices rise on Big Isle, Kauai
Sales on the Big Island and Kauai slid in March, but the median price paid for condominium units picked up in both markets, along with the median price paid for a single-family home on Kauai.
The number of single-family home sales on the Big Island fell to 101, a 45.1 percent drop from March 2007, according to data released by Hawaii Information Service. Likewise, Single-family home sales on Kauai dropped by 39.6 percent in March to 29 from the year-prior 48.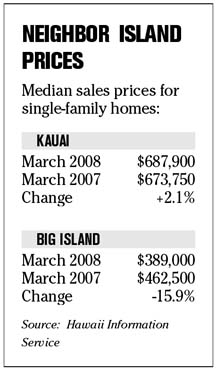 While the number of condominium resales was flat on the Big Island, it dropped by 50 percent on Kauai. Only 19 condominiums changed hands on Kauai last month as compared to 38 in the year prior month.
Neighbor Island real estate agents say the falloff in sales was not as dismal as the numbers would suggest.
Since the neighbor island markets are much smaller than Oahu's, a handful of high or low sales have a much greater effect on the numbers without necessarily indicating a trend.
"Kauai's prices are up for March because we had a number of high-end sales," said Phil Fudge of Kauai Landmark Realty. "The high-end sales portion of our market hasn't been as affected by the reports of impending doom and recession and stuff like that."
Investors from the U.S. West Coast and foreign markets, especially Canada, are still active in Kauai, Fudge said.
"We've got a lot of cash buyers and they haven't been affected by market adversity," he said.
More than half of the buyers on Kauai paid $687,900 for a single-family home last month, up 2.1 percent from the year-ago $673,500 median.
On the Big Island, the median sale price for a single-family home fell 15.9 percent to $389,000 from last year's $462,500 median.
While single-family home prices dropped on the Big Island and Kauai, condominium prices rose in both markets. The Kauai median condo price jumped 18.8 percent to $675,000 from $568,100 last year.
Condo prices on the Big Isle increased 17.1 percent to $515,000 from $440,000 in the prior year.
Howard Dinits, a real estate agent with RE/MAX Big Island Surf Realty, said that as the market continues to trend downward he's beginning to see more investor activity from the neighbor islands, U.S. West Coast and Canada.
"These are savvy investors looking for bargains and they are finding them," Dinits said.