---
FAST FACTS HAWAII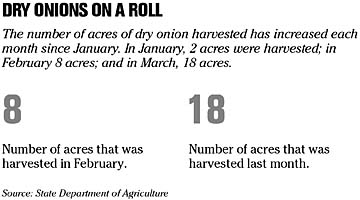 ---
NATION
Mesa sues Delta over contract PHOENIX » Mesa Air Group Inc. filed a federal lawsuit yesterday against Delta Air Lines Inc. to keep its contract-flying agreement intact, a lawyer for Mesa said.
Mesa General Counsel Brian Gillman said the lawsuit filed in Atlanta was in response to Delta's announcement last week that it plans to end the contract.
Losing Delta's contract would be a major blow to the Phoenix-based carrier. It was worth $20 million in revenue per month last year and comprised 21 percent of the carrier's total passenger revenue for the three-month period that ended Dec. 31.
Mesa operates 182 aircraft to 157 cities and employs about 5,000 people, including the interisland carrier go! in Hawaii.
AMD warns of lower sales
SAN FRANCISCO » Battered by product delays and acquisition costs, beleaguered chip maker
Advanced Micro Devices Inc.
said yesterday that it will jettison 10 percent of its work force and warned investors that first-quarter sales were lower than expected across all business lines.
The Sunnyvale-based company's job cuts, which amount to 1,600 workers, were expected.
But analysts were expecting AMD to ring up $1.61 billion in sales; the company says sales for the three months ended March 29 were closer to $1.5 billion, a 15 percent drop from the year-ago period.
AMD has fallen on hard times as it confronts intensifying competition from Intel Corp. and tries to digest the $5.6 billion acquisition of graphics chip maker ATI Technologies Inc.
Alcoa profit plunges 54 percent
PITTSBURGH » Aluminum producer
Alcoa Inc.
said yesterday its first-quarter earnings plummeted 54 percent as higher raw material and energy costs and a weaker dollar cut into results.
Net income dropped to $303 million, or 37 cents per share, during the first three months of the year, compared with $662 million, or 75 cents per share, during the same period last year, the company said. Sales fell nearly 7 percent to $7.38 billion, from $7.91 billion a year earlier. Analysts forecast 48 cents per share on revenue of $7.18 billion.
"Upstream margins were squeezed by higher energy costs and a weaker U.S. dollar, but the global market remains tight and prices are near historic highs, primarily driven by demand in Asia, especially China," Alcoa Chairman and Chief Executive Alain Belda said in a statement.
WORLD
EU OKs cell calls in flight BRUSSELS, Belgium » The European Union yesterday opened the way for air travelers to use mobile phones to talk, text or send e-mails on planes throughout Europe's airspace.
Midair service may be available as soon as this year on some airlines for passengers using European GSM technology. The United States and many other countries bar mobile devices in the air because of concern they could disrupt a plane's instruments.
Under the plan approved today, cell phone users could make and receive calls through an onboard base station. But a host of issues remain, from the cost of mid-flight phone service, to backlash from those who dread the thought of being trapped for hours listening to one-sided conversations.
BRIEF CASE
BORROWING SLOWS:
Consumers, battered by a credit crunch and prolonged housing slump, significantly slowed their pace of borrowing in February. The Federal Reserve reported yesterday that consumer borrowing rose at an annual rate of 2.4 percent in February, just half of the 4.9 percent increase in January. The slowdown reflected much weaker demand for auto loans and other type of non-revolving credit.
---
BUSINESS PULSE